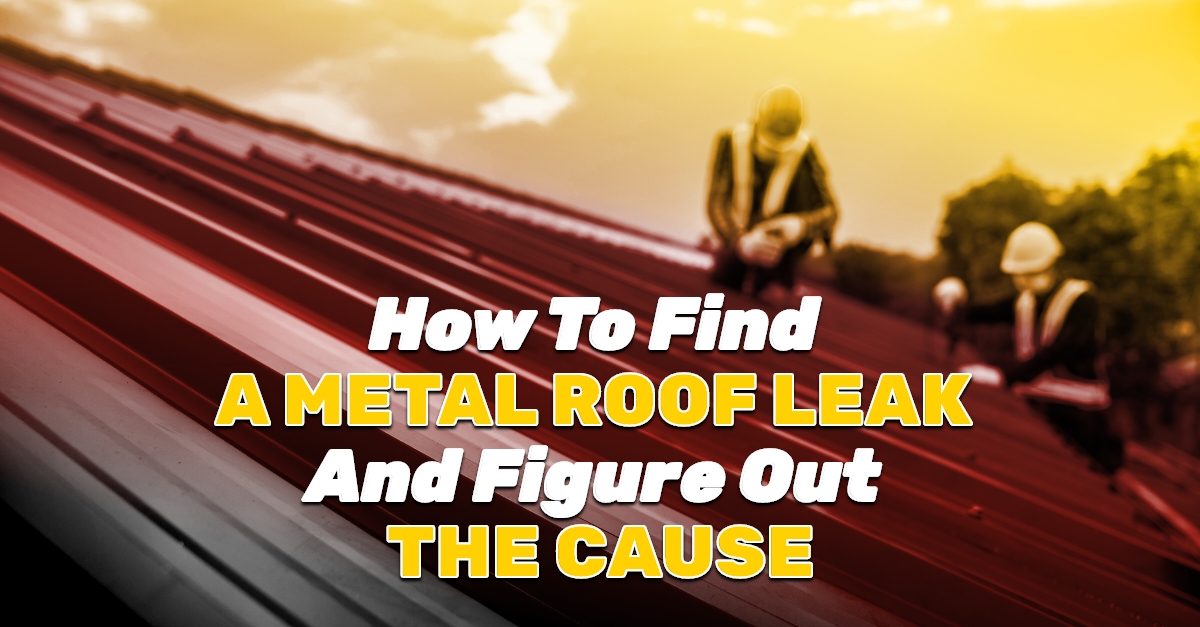 We have all stepped on those small, plastic toy bricks barefoot. Those painful little bricks illustrate why metal roofs are far less likely to leak than shingle roofs. We will get to the reason, but if you have the sad experience of a roof leak with your metal roof, you can follow these three steps to deal with it. 
Little Pieces
Shingles are much like those little toy building bricks: they are small and unitized. If hundreds of shingles cover your Charleston-area home's roof, you have hundreds of opportunities for roof leaks. When large, gleaming and durable metal panels cover your roof, you have far fewer places water can leak. 
A tough, long-lasting metal roof is far less likely to leak than any shingle roof, simply because you have larger pieces, fewer holes, and stronger roofing material. Yet metal roofs can leak. Often, finding the leak in a metal roof can be more challenging (for you or a professional roofer) than finding the roof leak in a shingle roof because most metal roofs are raised slightly above your underlayment and sheathing. That means a fastener hole high on your sloping roof can allow water to drip and run down over the underlayment and enter your attic lower down. Frustrating? You bet! Fixable? You bet!
First, The Evidence
Spotting a roof leak inside your Charleston-area home is not difficult. Look for these signs within your living space:
Stains on ceilings and walls

Actual moisture beading up and dripping from the ceiling

High humidity even with the HVAC system running

Unexplained cold spots in rooms during winter
A great, relatively safe way to spot roof leaks is to visit your attic. If you feel comfortable doing so, you can gear up and investigate:
Put on a long-sleeved shirt, long pants, gloves, safety goggles, and a respirator or face mask

Bring a flashlight and smartphone (to take photographs to show your professional residential roofer)

Walk with extreme care; walk only on joists if your attic has no subflooring

Mind your head! Attics can be very low
What are you looking for up there? Six sure signs of a roof leak (not to be confused with condensation or an HVAC system leak) are:
Dark or shiny spots on wood or insulation

Visible mold growth or a smell of mildew

Discolorations – water stains — on wood or other surfaces

Condensation on nails or other metallic objects

Damage to insulation, such as holes, dampness, or stains

Visible, actual water dripping from a hole in the sheathing (the wood sheets supporting your roof)
Second, The Cause
Once you find a roof leak, either from evidence inside your home or in the attic, you and your roofer need to figure out the cause. A shingle roof has hundreds and hundreds of roofing nails driven through shingles into the sheathing, each of which can cause a water leak. 
The leak source may be more subtle in a metal roof with sturdy metal fasteners locking metal panels down to the sheathing and battens. As we mentioned, a leak can start in one place on the top layer and find its way elsewhere, in a lower layer. 
With metal roofs, possible causes of roof leaks are very few: 
Lack of regular maintenance

, including protection of the finish so that corrosion and rust cannot attack holes for mechanical fasteners

Wind or heavy weather

that may dislodge, uplift, or shift metal panels

Shoddy installation

— angled, overdriven, underdriven or misaligned metal screws can allow water to enter around screw holes

Rubber boots

— Flashings around sanitary stacks often degrade from harsh sunlight, becoming brittle and allowing water to enter around the stack pipe

Sealants

— Other methods of sealing, including flashing, curbs around skylights, and caulking, can all cause metal roofs to leak

End of life

— Even a metal roof wears out; if your home's metal roof is 40 to 50+ years old, you need a new roof
Third, The Cure
All of your detective work is helpful information for your professional roofer. As a Charleston-area homeowner, you have neither the skill nor the equipment to tackle metal roof repair. As soon as you spot the leak, contact your helpful, local roofer. Your roofing contractor can confirm your findings, or pinpoint other issues, and make quick work of the roof repair. 
Your roofer's truck is equipped with the right tools, safety gear, and supplies to make a one-stop visit easy and affordable. Your metal roof remains protected by its warranty, and your home is protected by your strong metal roof. 
Palmetto State homeowners have a great ally for all their roofing needs with Trico Exteriors in Charleston. Contact us today to see what we can bring to your South Carolina home, from roof repair to complete roof replacement.