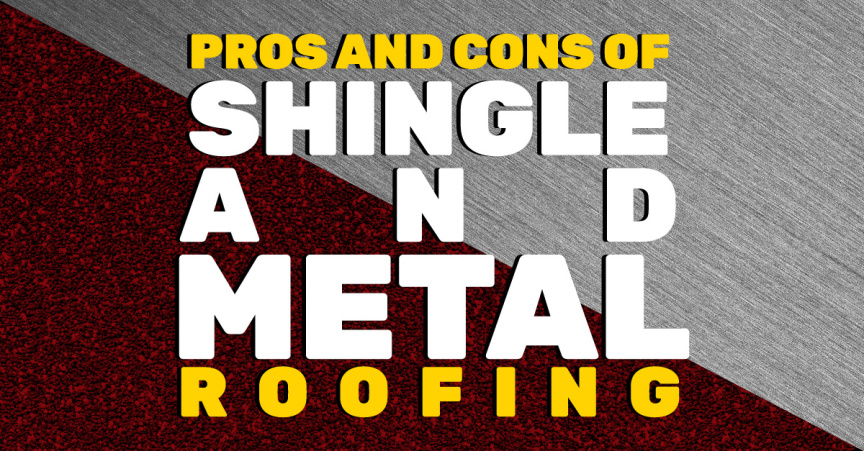 You have plenty of options when it comes to choosing a new roof for your home, not the least of which is deciding what material to use.
For most homeowners, the choice comes down to a shingle or metal roof. While asphalt shingles have long been the material of choice for homeowners, metal shingles have become increasingly popular over the last decade. Which one is right for your home? Let's look at some pros and cons.
Shingle Roof Advantages
There are many advantages for choosing a shingle roof for your home, including:
Affordability

– Shingles are cheaper than metal roofing when comparing one-time costs, like installation.

Minimal maintenance

– Not only are shingle roofs easier to install and replace, the repair work is usually inexpensive.

Variety

– Shingle roofing comes in a variety of colors and styles.

Good warranty coverage

– Shingles roofs come with a variety of warranty options from both the manufacturer and the contractor.
Metal Roof Advantages
Energy efficiency – A metal roof replacement will transform your home's current roof into a "cool" roof, which means it's more energy efficient. In turn, you'll reduce your annual energy costs.
Lightweight

– Metal roofing consists of a very lightweight material. That makes it easier for installers to handle and transport to the roof during the installation process. This also means less weight and stress on your home's structure.

Longevity

– The lifespan of a metal roof is almost twice as long as that of an asphalt roof. Your metal roof may not show signs of wear and tear for 50 years or more.

Lower long-term cost

– While you'll pay more up front for a metal roof, its longevity makes it an excellent long-term investment.
Shingle Roof Disadvantages
Shorter lifespan

– The average lifespan of a shingle roof is between 20 to 25 years.

Heaviness

– Asphalt shingles are heavier than metal shingles.

Granule flaking

– The granules of shingle roofing can flake off and end up in gutters, pipes, and other areas where it may cause a blockage. Although healthy roofs shed granules through their lifespan, you may run into a few that you'll need to clean up or wash away.
Metal Roof Disadvantages
A limited number of contractors

– Finding a qualified metal roofing contractor in your area is essential, but there are fewer of them than qualified shingle installers. Make sure to find a contractor that has experience and know-how in the metal roofing industry.

Bigger up-front cost

– Metal roofing is more expensive than shingle roofing as a one-time cost.
Tri-County Roofing has served the Charleston area for over 40 years and is qualified to install shingle and metal roofing.