Skylight Contractors in Charleston

Trico Exteriors installs Velux skylights. We know the value a skylight can add to your home. We are qualified to help you select, properly place, and correctly install a quality skylight.
Why Install Skylights?
Skylights bring light and value into your home. They can make small rooms appear more spacious. Skylights bring the benefits of natural light into your home without sacrificing your privacy. As an additional perk, installing skylights may reduce your energy costs.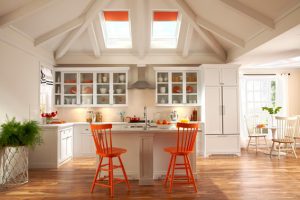 Modern Skylight Technology:
Skylights continue to improve and become less expensive and more innovative and user friendly.
Velux offers an electronically tinted skylight that allows remote control of heat and light entering a room.
Velux's VSE electric venting skylight comes with a pre-installed mounting bracket that allows mounting with nails. This facilitates installation and reduces the chance of problems later on.
Tubular skylights continue to be very popular, and work well for providing light in small spaces. The Velux Sun Tunnel comes with flexible and rigid options.
Experienced Installers
Correct installation and placement are key.
We'll install your skylight so that its placement is optimal and leak-proof. We can help you decide on the best skylight for your home, given your unique space and construction parameters.

Contact Trico Exteriors