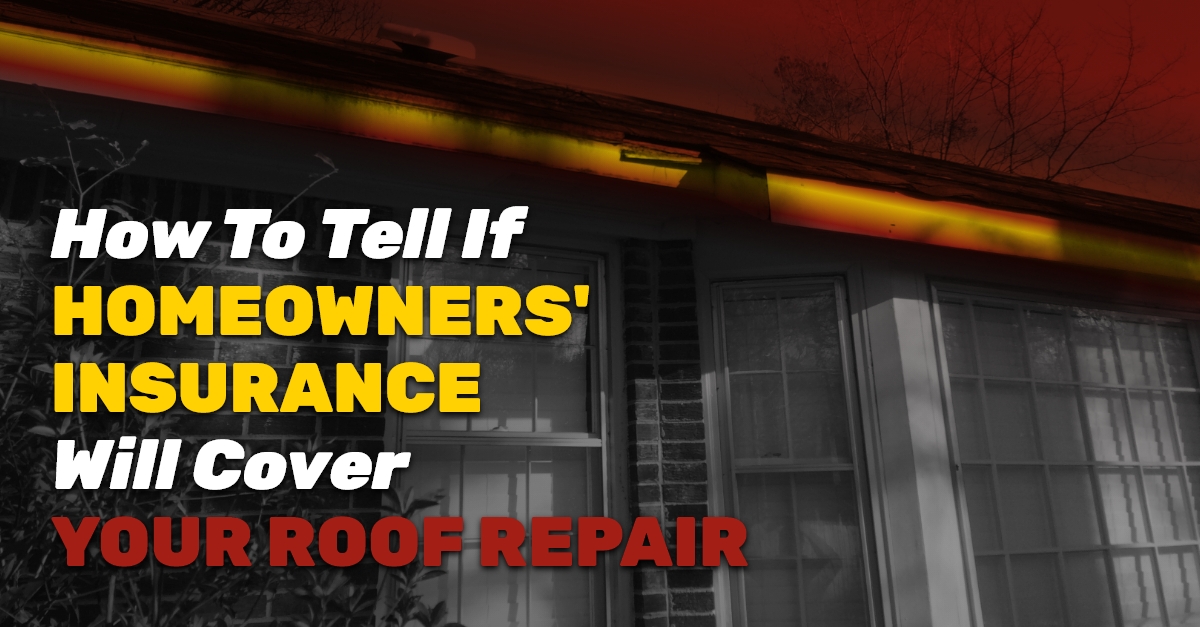 Your Charleston home has roof damage. Insurance will cover it, surely, but you may not even know where to start. Perhaps you know how to file a claim, but you ran into some unscrupulous contractors in the past. Now you are overwhelmed with concerns and questions, questions like, "How do I get this done?" "What does a workmanship warranty cover?" "Will homeowners insurance cover roof repair services?" 
Insurance Protects You
Homeowners insurance usually protects you when your home's roof is damaged due to normal weather events:
Every policy differs, with one insurer covering an event another insurer will not. House fires are covered by most policies. A tree or major branch of a tree falling on your home's roof (due to high winds, for instance) will also be a covered event unless your neglect caused the tree to topple. You have insurance not just to satisfy a mortgage lender but to provide a way to pay for needed repairs to your home and roof. 
What is not covered? Normal wear and tear on a roof, a roof that has been neglected, or a roof harmed by deliberate acts (teenagers hanging out on a residential roof are a formula for financial, medical, and emotional ruin). 
Roof Leaks
Typically, damage to your roof, attic, and home interior from roof leaks is covered by homeowners insurance. If the insurance adjuster is concerned about a neglected roof, you may not be protected. That is one of many reasons to schedule regular roof inspection and maintenance visits by your nearby residential roofer. Showing a paper trail of regular inspections will bolster any insurance claims on roof damage.
The rule of thumb for invoking insurance claims is straightforward: insurance protects against sudden, unexpected events and accidents. It does not protect against your behavior (or the behavior of your teenage children). 
Deductible
Regardless of the accidental roof damage source, you will be expected to pay a deductible before the insurance covers the rest of the claim. Policies are tailored to individual homeowners' needs, so your deductible could be $250, $500, or $1,000. Always have at least that much money tucked away to use right away, so your claim can move briskly from adjuster to roofer. 
The deductible should never hold you back from discussing roof damage with your residential roofer. What you think is minor damage — barely enough to claim — could actually be substantial problems. Your roof's surface and the sheathing, underlayment, flashing, and rafters could be affected. 
To Claim or Not to Claim?
Calling the 1-800 number on your homeowners' insurance policy does not automatically move your accident or weather event from claim to completion. With the call, you are opening a claim. The claim will be investigated by an insurance adjuster (not your local agent, though your agent is always available to answer questions and check on your claim). 
The adjuster verifies your version of events, inspects the damage, and determines the extent of remediation required. Having your local roofing contractor on hand when the adjuster checks your roof can speed the claim along. Your roofer can point out damage, suggest solutions, and help the adjuster with the Scope of Work the claim requires. 
Keep in mind the roofer does not work for the insurance company. Though the adjuster may know your roofer well (from previous claims work), they have two different goals:
The insurance adjuster wants to make good on the claim for the lowest possible price.

The roofer wants to restore your home, so you become a satisfied, repeat customer.
The roofer could uncover greater damage than the adjuster notices. The adjuster could recommend a partial roof replacement method the roofer does not recommend. Generally, though, the adjuster will approve a common-sense, reasonable strategy to make your house whole again. 
Your Role
Your role in an insurance claim for roofing work is limited:
You start the claim

You call your roofer

You may connect the roofer and adjuster
The two professionals will handle almost everything else. The adjuster will cut a check which may go directly to your choice of roofing professional. You pay the deductible before the claim amount covers the roofer's charge. 
You have very little to do with the process other than making the initial telephone calls and providing the deductible. You can relax and trust your insurance company and roofer to make your Michigan home a showpiece once again. Your roof will be restored through partial or complete roof replacement. 
Trico Exteriors serves homeowners throughout Charleston, SC,  for all their roofing needs. Contact us today to learn how we will handle your insurance claim, provide prompt emergency work, including repairs, complete roof replacement, and more.