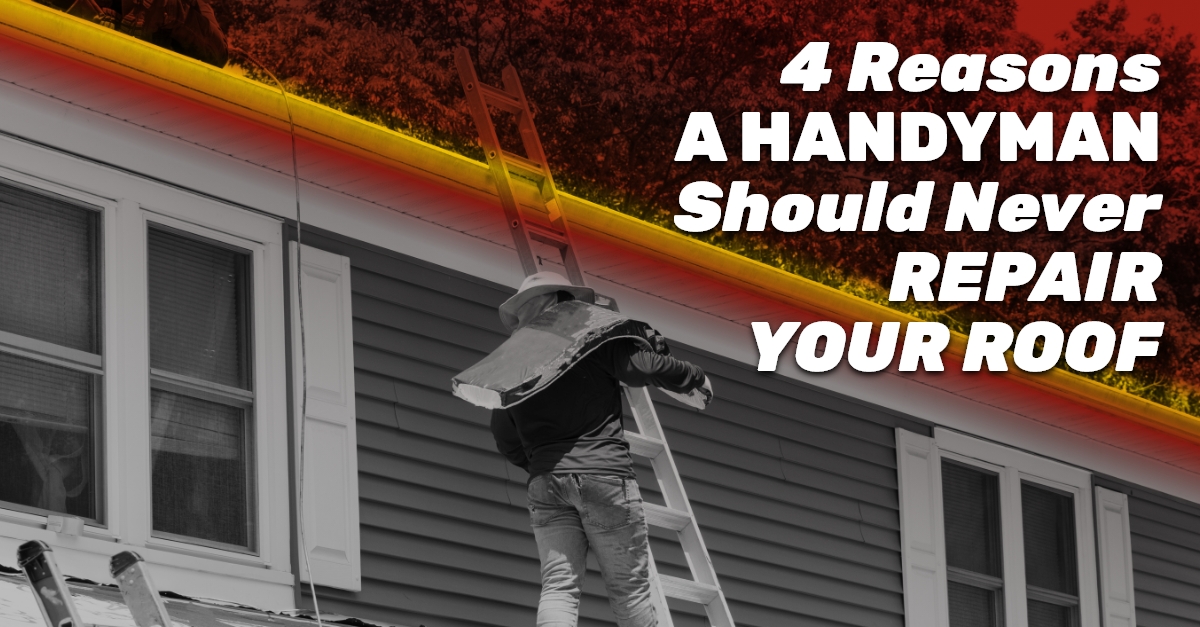 Ah, To-Do Lists! Most homeowners make them, and some homeowners actually refer to them when tackling the never-ending chores of home ownership. "Call exterminator re: palmetto bugs," or "Can handyman repair roof for cheap?" You could try mint oil for the roaches palmetto bugs, but for the roof, never let a handyman near it! 
Roof Repair, Goof Repair
Two types of people should never go near your Charleston-area home's roof: 
You

Handyman service folks
Roofs are slippery. Roofing is one of the most dangerous occupations. That is not just our opinion; the Bureau of Labor Statistics says so. No amateur, including homeowners and handymen (or handywomen), should climb your home's roof. A fall from a single story home can put you in Medical University hospital. Falls from higher elevations can put you in the ground.
A handyman service may offer to repair your roof but will lack a few important things:
Experience

The right tools

Safety equipment

Training
On the other hand, a professional roofer familiar with the dangers of working on a slippery, sloped surface will bring all of those important things to the job. 
Keep the goofs off your roof!
Watch Out!
How can you know your roof needs repairing? In the Charleston area, we are blessed not to be bothered with serious snow and ice storms. Yet our roofs still wear out. From the safety of your yard, look for these trouble signs:
Missing, loose, or damaged shingles

Corroded or loose flashing

Uneven, raised, or dimpled areas of your roof
If you feel comfortable climbing an extension ladder to peek in your gutters, you can search them for signs of shingle granules washed down off your roof. A lot of granules means your roof needs attention. 
Inside your home, check ceilings and walls for stains, damp spots, or cold areas. These can indicate roof leaks. If you want to climb into your attic, use a flashlight to inspect the underside of sheathing. Turn the light off and see if any light spills in from above, indicating cracks and openings in your roof. 
Four Solid Reasons
Once you know you need roof repair and have sensibly decided against doing it yourself, you may be tempted to contact a handyman service, mistakenly thinking you will save money. Bless your heart, here are four solid reasons to the contrary:
Untrained handyman services could do more damage to your roof without anyone realizing the fact until the handyman is long gone

The fresh damage can lead to more leaks, but since the original leak is fixed, the handyman service can deny responsibility for the new problems

To deal with new damage, you have to take more time to find a real roofer and possibly pay for

emergency roof repair

You will have spent money on the handyman and a real roofer,

plus

paid a premium for emergency repairs
You end up behind on every aspect of the repair; your home is more damaged, the leaks are worse, your bank account is diminished, and you have wasted valuable time. 
You can avoid all of those aggravations and vexations by starting with a real roofer in the first place. If you are still tempted to hire a handyman, ask these basic questions of both professions:
What is your Contractor's License Number? (Trico Exteriors holds License #Rbs13778)

Where is your Workers Compensation insurance certificate?

May I see your Liability Insurance paperwork?
This is an unfair line of questioning for the simple reason that almost no handyman service will be able to provide all three documents. Then you can ask what kind of factory training the handyman service has, or how the work will help the roof warranty to remain in force, or how many roofs the handyman has repaired in the past week. All of those questions are likely to lead to uncomfortable answers. 
Leave It to Professionals
Your Charleston-area home's roof protects just about everything else you own. When it needs repair, invest in skilled professionals who come to you with the right equipment. Invest in roofing professionals who can diagnose the problem, fix it fast, and avoid harming the rest of your roof.
You may think such a service will cost significantly more than a handyman service, but the roofer comes to you with no hidden costs. The handyman's up-front "low-cost" roofing repair leads to a lot of money to repair the repairs.
When you used a trained, professional roofing contractor, you:
Save time

Get careful, attentive service

Get the repairs done correctly the first time

Keep your roofing warranty intact
Trico Exteriors in Charleston is your Low Country link to the best in roofing, decking, and exterior services. We offer complete roof repair, full roof replacement, and more. Contact us today to keep your roof looking as pretty as a sweetgrass basket from City Market.