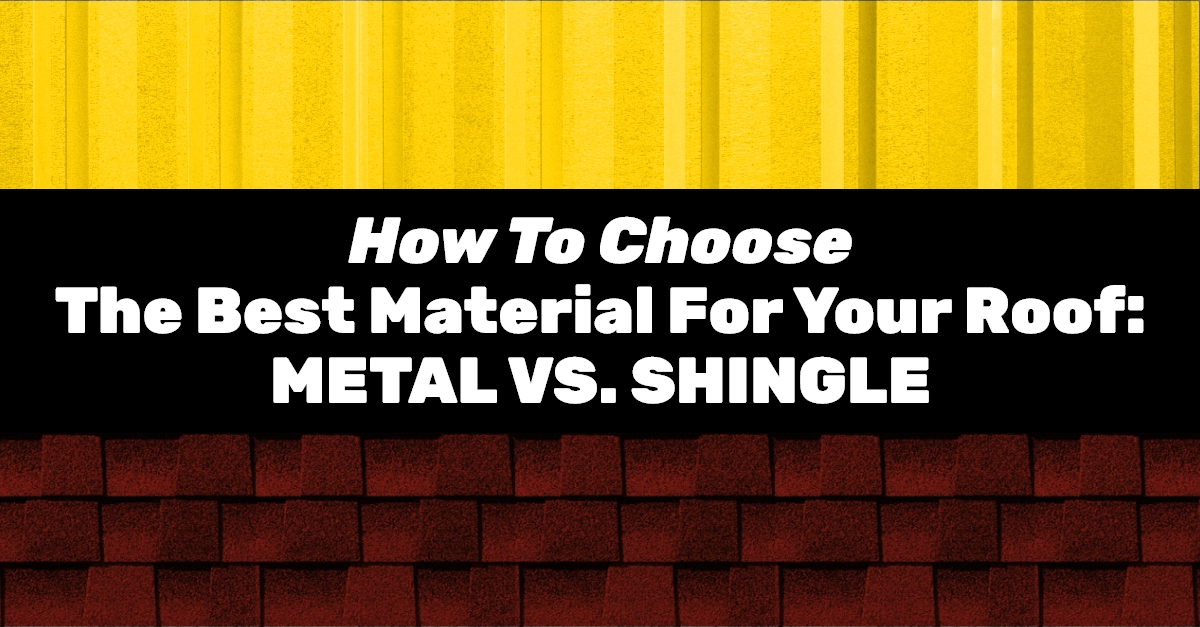 In 1966, Abraham Maslow wrote, "If all you have is a hammer, it is tempting to treat everything as if it were a nail." This concept also applies to building materials. If all you sell is shingles, every roof needs a shingle. But for a Charleston-area homeowner, only you, the homeowner, can decide: metal roof or shingle roof—which is better?
Good Ol' Shingles
Asphalt shingles (or fiberglass-asphalt shingles, in many cases) are North America's most popular residential roofing material. Shingles have the lowest up-front installation cost of any typical roofing material designed exclusively for residences. 
No roofing material is ideal under all conditions, so the advantages of shingles are countered by some of their disadvantages. To be entirely fair, here are some shingle pros and cons:
Shingles install quickly and easily

, with minimal unexpected installation problems.

Shingles must be installed on warm days with no chance of rain for optimal adhesion.

Just about any roofing crew—even

sketchy day crews

assembled by your roofing contractor from the parking lots of big-box home improvement stores—can install a shingle roof adequately

Shingles typically last between 10 and 20 years.
Comparing shingles to metal roofing, you will need to invest in two to three shingle roofs for every metal roof because shingles wear out faster than metal. Other considerations:
Shingles often offer good footholds for algae, moss, and mold, but many shingle makers add algae inhibitors to their granules and adhesives.

Most shingle roofs come with warranties protecting you against manufacturing defects.

Shingle color fades as fast as the color granules drop from the shingle.

Shingles can be cleaned relatively easily by trained professionals.

Shingles require substantially more maintenance than metal or tile roofs.
Shingles come in various pricing levels, from highly economical three-tab basic shingles (these usually wear out at the lower end of life spans—around a decade) to deep-cut architectural shingles (featuring dramatic, multilayered looks lasting closer to 20 years and sometimes longer). 
Metal Roofing
You know your Charleston-area home better than anyone, and you also know your future plans. If you plan to move on from your home in the next few years, a good, honest residential roofer will suggest shingles. Shingles are adequate for your needs since you will not be paying for their replacement at the 10- or 15-year mark. 
You do not need to invest in the superior quality, beautiful good looks, and excellent curb appeal of metal roofing if you are not staying in your home for 20 or more years. You will not see the return on investment (ROI) from decade upon decade of worry-free living under a metal roof. 
A metal roof typically lasts 50 years, and its resilience in all types of weather is well known. Some other pros and cons of metal roofing:
You will

replace at least two shingle roofs in the average lifespan of a metal roof

, making its average annual cost far lower than the money you would spend on shingle roofs.

You must select your contractor carefully to avoid metal that is too thin (the wrong gauge) or of the wrong composition for durability; flimsy metal panels offered by some roofers do not outlast shingles.

Absolutely minimal maintenance is needed for

metal roofing

; an annual inspection by your skilled, local residential roofer is sufficient to keep the roof in prime condition for decades.

Metal roofing can be physically connected to your Charleston-area home with hurricane clips, making it highly resistant to wind uplift and heavy weather.

Highly reflective metal roofing can help lower your home's energy bill by preventing high temperatures in your attic during sweltering Charleston summers.

Metal roofing sheds water faster and better than shingles, though shingles are designed to be water-resistant.

Metal roofing is available

in a wide rainbow of colors, protected by a clear coating for long-lasting fade resistance.

When rust becomes an issue on a metal roof, it is usually because of degradation of the clear finish around fastener holes; this can be prevented with annual inspections by experienced roofers who know how to spot minor problems before they become major headaches.
Only You
Abraham Maslow—that guy with the hammer—is most famous for his hierarchy of needs. He begins with necessities like air, water, food, and clothing. A major component of Maslow's Hierarchy is shelter, the kind of shelter with a reliable, affordable roof. 
Only you can decide which roof—shingles or metal—is right for you and the family you are sheltering. Work with a roofer who listens to your concerns and offers unbiased advice. Avoid a roofer who offers only one solution.
Trico Exteriors in Charleston, South Carolina, can assist you with selecting roof material, metal, or shingle. Contact us today for an appointment at your home, and we will bring our expertise, a half-century of experience, and roofing samples to you!