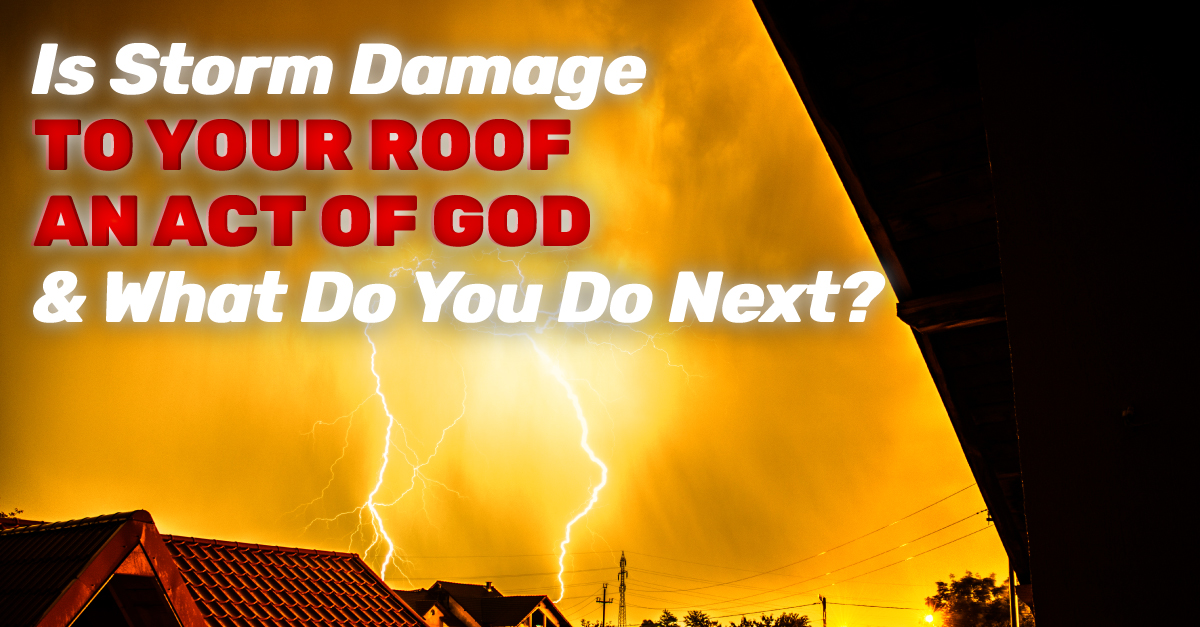 Although your roof is designed to protect your home from the elements, it's hard to predict when it will be hit by adverse weather. Therefore, it's essential to understand the precise steps to take if a raging storm tears off your roof. Typically, your homeowner's insurance should reimburse you for the cost of replacing your roof after storm damage. Unfortunately, most policies are stuffed with industry jargon which might be confusing to understand. Working with an experienced roofing contractor and contacting your insurance agent can help shed light on your insurance covers and what it doesn't.
Home Insurance and Acts of God
One common legal term you might have come across is "act of God" concerning homeowners insurance. The vague and confusing term can be quite a head-scratcher. So, how do you determine storm damage to your roof is an act of God? 
In terms of home insurance coverage, an act of God is an unpredictable and unpreventable incident. In general, the event:
A person does not cause it

It cannot be anticipated, predicted, or prepared for

It is not preventable or able to be controlled

It happens as a direct consequence of natural causes
Natural catastrophes and hazards such as storms, hurricanes, earthquakes, lightning, tornadoes, and floods are all considered acts of God. The occurrence of such events and the subsequent property damage is often out of human control. 
However, certain acts of God, such as earthquakes and floods, are typically excluded in standard homeowner's policies. You will need to purchase a separate policy to protect you against such incidents. The best way to know what natural events are covered is to review your insurance coverage, find out if there are any exclusions, or seek professional interpretation.
What to Do After Storm Damage
When a storm destroys your roof, you can rely on your local, knowledgeable, and experienced roofing contractor to have it restored as soon as possible. A reputable roofer can help you handle every aspect of your insurance claim process and get your roof repaired or replaced quickly. Skilled roofers can also provide expert roof maintenance to ensure your roof can stand up to minor storms. After storm damage, here are the steps to take to ensure speedy and efficient restoration:
1. Call Your Insurance Company
The first person to call after storm damage is your insurance provider to start the claim process. Evaluate if the damage is significant enough to be covered through your home insurance or whether it makes more economic sense to hire a contractor directly for any essential repairs. But in times of natural disaster, when a massive storm hits a large residential area, it can be beneficial to file an insurance claim to cover your roof repair or replacement costs.
2. Call a Roofer to Inspect the Damage
Contact your roofer immediately to come and assess the magnitude of damage and give an estimate for repairs or replacement. Usually, your contractor will carry out an initial inspection before performing the roof repair or replacement. It lets you know what to expect when filing an insurance claim. Be sure to hire a roof inspector with years of training and expertise in unearthing your roof's problems to ensure what your insurer approves will adequately restore your roof.
An expert assessment is also required by insurance providers since there are certain situations where a warranty can be voided due to lack of roof maintenance and roofing alteration without prior consent.
Overall, your roofing contractor will carry out the following:
Assess the roof damage with a professional eye

Give an estimate on repair or replacement costs

Help you through the claim process

Repair or replace your roof
Always Work with a Trusted Roofing Contractor
It's essential to choose a reliable roofing contractor and not storm chasers who knock on your front door. Ensure the roofer you're considering is insured, licensed, and can offer a strong warranty for their work. Check out online reviews to understand other people's experiences with their services.
Additionally, working with a trusted local roofer will ensure someone is available to respond to your emergency roofing needs. By keeping off roof restoration for too long, your roof can suffer a greater extent of damage. The longer you wait, the more your home will suffer interior water damage and mold infestation that can expose your family to serious health risks.
Once your claim is approved, have your roofer replace your roof as soon as possible. At TriCo Exteriors, we have several years of experience repairing and replacing roofs through insurance claims in Charleston, SC. If you suspect a recent storm damaged your roof, contact us today for a free assessment and quick restoration!