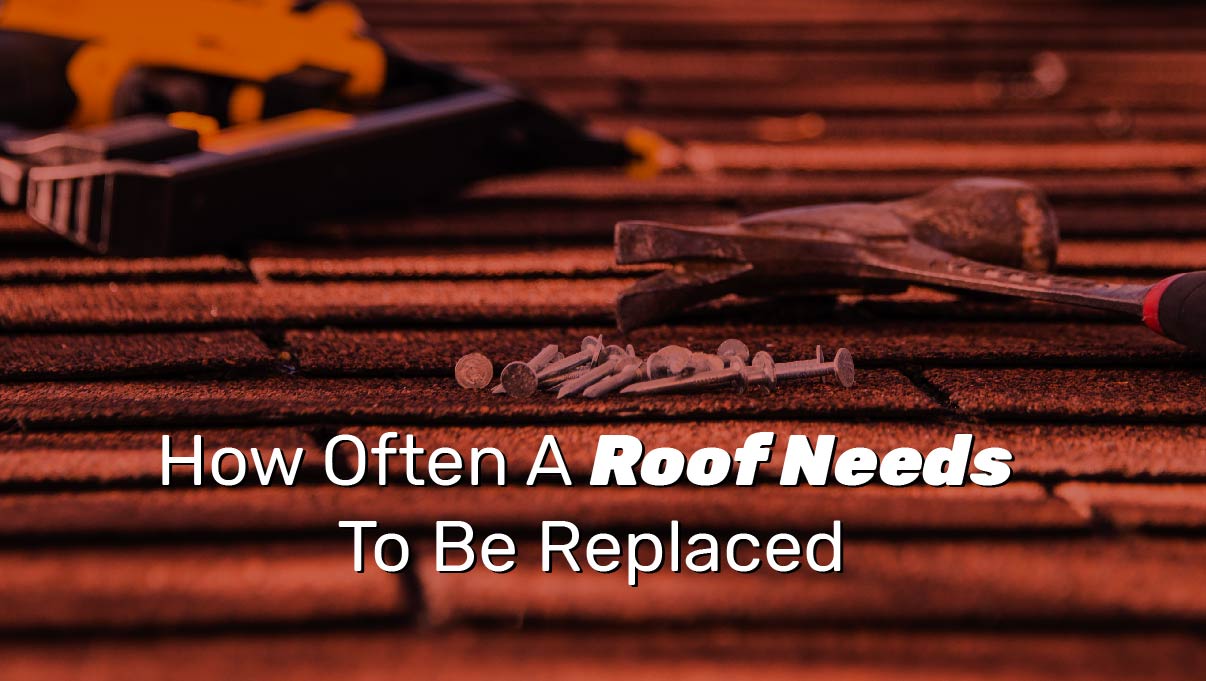 In this modern-day and age, everything seems to have a sell-by date, and your roof is not exempted. There are several reasons a full roof replacement might be necessary. For instance, if your roof suffers storm damage, simple repairs may not effectively restore its integrity. You may need a complete shingle or metal roof replacement to prevent further damage to your home. Other than emergency storm damages, a roof will need a replacement after a certain number of years.
How Often Your Roof Should Be Replaced
Knowing when your roof was installed and the materials it's made of can give you insight into how much time it has left. On average, a typical asphalt shingle roof will last 20 to 25 years. This period could vary depending on the quality of materials used and ventilation and climate factors like heat, humidity, and cold. You should have a roofing professional inspect your roof at least once every year (we recommend two times a year) to see the condition of your roof and suggest when it's time to replace it.
Other than age, your roof might need a replacement sooner if it develops serious damages. Look for signs of roof damage, such as water stains on your ceilings or wall. Mold and other discoloration may also point to some excessive moisture emanating from your roof. Have a roofing contractor inspect your roof and advise on the appropriate course of action.
Your roof's lifespan can also vary widely due to the following elements:
Material –

Different roofing materials provide different average lifespans. A typical asphalt shingles roof will last between 15 to 18 years while laminate shingles can last about 24 to 30 years. Metal roofs and wood shingles do quite well, averaging 30 to 40 years and 30 to 45 years respectively.

Humidity –

Humidity is your roof's worst enemy. In areas prone to heavy precipitation, including sleet, hail, and snow, roofs tend to deteriorate faster. Winter can be particularly damaging, especially if the weather fluctuates between above-zero and freezing temperatures. Freeze-thaw cycles can even cause severe ice dams, causing multiple roof (and eventually interior) damages. 

Heat –

Scorching summer heat can also reduce the lifespan of your roof. Dark roofs are prone to absorbing heat, causing shingles to dry out and become brittle.  

Poor Ventilation –

Good ventilation ensures that your roof does not form ice dams during winter by keeping air circulating and cooling down your roof. In summer, good ventilation ensures that your roof doesn't get too hot, which reduces the need to lower your thermostat.
What a Roof Replacement Entails
A roof replacement involves tearing off the old roof and disposing of it. Your roofing contractor will then prep the surface and install everything afresh. Here is a summary of the steps your roofer will take during a roof replacement:
Remove and discard old shingles (this applies to a full tear-off).

Make any repairs on wood decking as needed.

Install roofing felt or synthetic underlayment, including ice and water shield.

Install a drip edge.

Lay out and install new shingles.

Install all flashing.

Install ridge vents. (If other style vents are installed, this step will happen during the installation of shingles.)

Install ridge cap and walk down the roof doing the final sealing of any exposed nail heads.

Final clean up of the roof and ground areas around your home.
Shingle roof replacement should be done by certified roofers to ensure safety and quality workmanship. The new shingles should match the original style and color of our old roof unless you want to opt for a new style. Fortunately, shingle roofing materials are cost-effective and come in a variety of styles, textures, and colors to choose from. Consider a roofer who offers an extended warranty.
Metal roof replacement is another great way to enhance the appearance of your home, and the results will last for several years to come. If you're looking for a lightweight roofing option that can be installed over an existing shingles roof without adding excessive weight, a metal roof could be your best option.
How long does it take to replace a roof?
It generally takes one day to replace the roof of a small home, but the period could vary depending on the type of roof, the materials used, steepness, and extra details like valleys, roof penetrations, etc. If there is more roof surface to replace, the work could take longer than one day.
As a Charleston, SC roofing contractor, Tri County Roofing can help you with your roof replacement project. With our certification, we offer our clients the GAF Golden Pledge® extended roof protection warranty. Whether you have a shingle or metal roof in South Carolina, we've got you covered. Contact us today for any inquiry about roof replacement, maintenance, or repair.