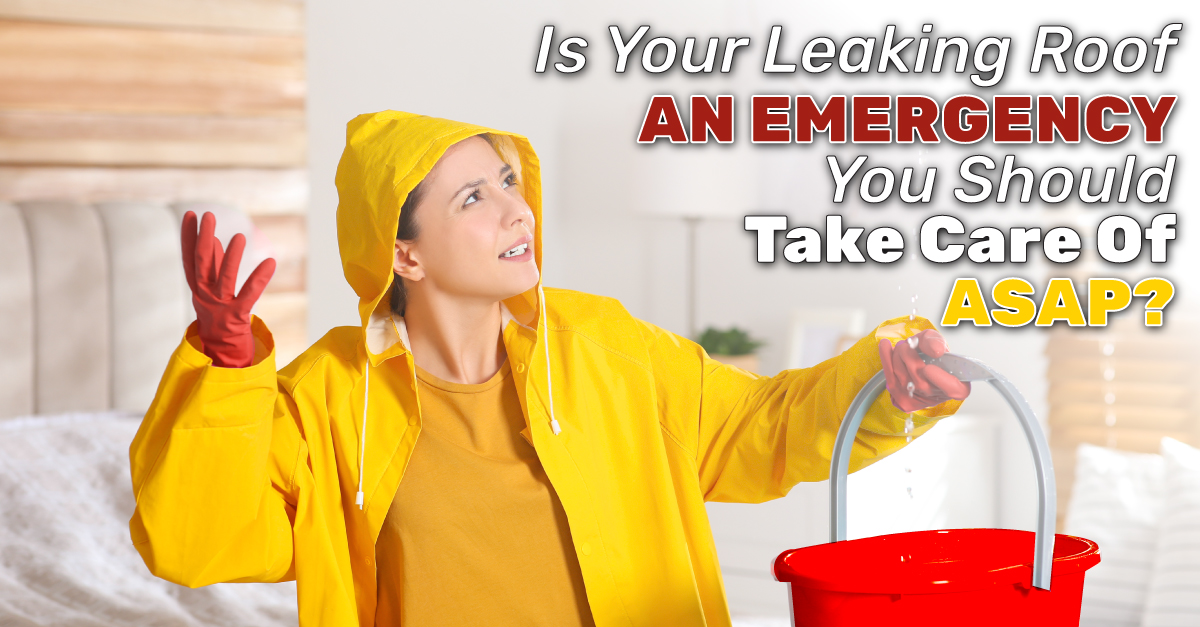 A roof leak can be a devastating event for any homeowner. When you notice a leaky roof during a storm, your first course of action should be to identify the source of the leak and schedule prompt repairs. Unfortunately, emergency roof leak repairs are relatively expensive since the contractor will need to plan a rapid response. Roofing contractors are usually booked weeks before the project, and you may need to pay a higher price if they must respond to your roofing issue right away. The same applies if the roofer has to work after-hours, over the weekend, or on holidays. So, you need to understand what roof leaks constitute an emergency and which ones don't.
What Constitutes an Emergency Roof Repair?
Emergency roof repair is something many roofing contractors offer. But what is emergency roof repair exactly, and how can you tell if you need it? An emergency roof repair is meant to protect your home from the elements until a more permanent repair can be done. Emergencies are classified by their effect on the home's living conditions and whether the house is habitable.
A roof leak is considered an emergency if the repair to your roof cannot wait. For example, if your roof starts leaking profusely or part of the roof or ceiling comes in, it would be considered an emergency. Also, if a severe storm damages one or more areas of your roof and weakens or exposes your home's interior to the elements in any way, it would be considered an emergency.
Other reasons a roof leak may be an emergency include:
A Large Area of Missing Shingles: If you notice several missing shingles on your roof, then this can constitute an emergency. However, a few damaged or missing shingles is not a big concern, although it should still be addressed as soon as possible to prevent a bigger issue later on. Too many damaged or missing shingles in one area of the roof can cause severe damage to the materials underneath.

Rotting in the Roof Deck: A rotting roof deck is another situation which may be considered an emergency. Rot can be caused by moisture getting into the attic, improper ventilation, or other moisture problems. If your roof deck is rotted, it can pose a structural hazard to your home and needs to be handled right away.

Your Home Interior Exposed to the Elements: Whether there are just a few missing shingles or the entire roof is lying on the living room floor, the only question is whether or not the repair can wait for a few days or needs to be sorted out right away. As long as your home's interior is exposed to the elements, it is an emergency.
When A Roof Leak Is Not Considered An Emergency
Missing shingles may or may not be considered an emergency, depending on how many shingles are missing, the area of the roof left uncovered, and the prevailing weather. Since emergency roof repair can be more expensive, it's essential to do a cost-benefit analysis to determine if there are dangers or safety risks in putting off the repairs until a later date.
A leak is also considered NOT an emergency if it doesn't affect the daily routines of the building occupants. If the leak is minimal and you can still go about your daily activities without interruptions, it is NOT an emergency but should still be addressed as soon as possible. You can determine the severity of a leak by looking at the speed at which drips fall. As a general rule of thumb, the faster and more significant the leaks, the more emergency and vice versa.
Additionally, small drips emanating from a leaky pipe can be annoying to the homeowner but are not considered emergencies. However, they still need to be addressed to prevent moisture damage and mold growth, triggering a myriad of health risks.
Leaks Can Cause Further Damage if Left Unchecked
Whether the roof leak is an emergency or not, it is something you don't want to ignore for long. If the leak is severe and lets in heavy streams of water to your home's interior, it is worth it to schedule emergency roof repair.
Keeping Contacts Of a Trusted Local Roofer Could Help!
It's essential to be realistic about the actual scope and extent of the roof leak so you can understand whether an emergency restoration is needed. In some situations, you may need to have your roof inspected by a professional roofer to help you determine whether repairs are needed ASAP or if a slight delay is acceptable. This is where having the contacts of a trusted local roofer comes into play. Trico Exteriors has provided quality roof repair, replacement, and maintenance services from Myrtle Beach to Savannah. Our exceptional roofers are focused on reliable roofing work and exquisite customer service. Contact us today to schedule a free inspection.