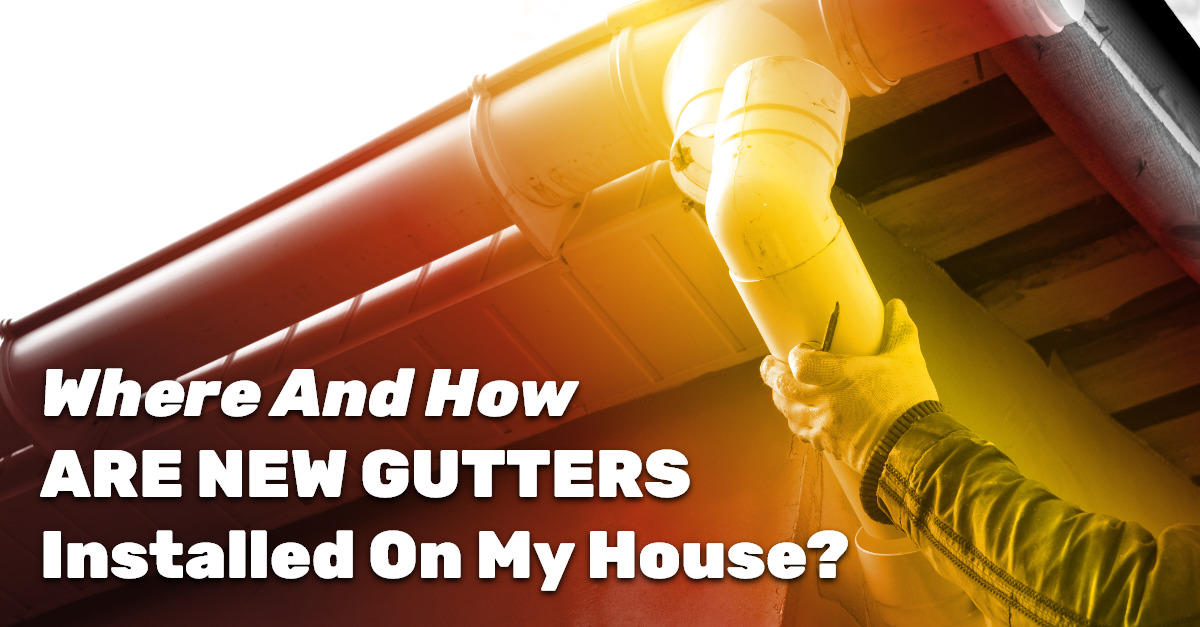 You do not need to pass an exam to own a house. You are not required to know the difference between a gable and a dormer, a fascia strip, and a brick mold. That means you may have no idea how gutters should be installed, or even where new seamless gutters are installed. Working with a roofing expert can help answer some of these questions
Where are Gutters Placed?
Your Charleston-area home's roof has a pitch, or angle, to shed water into your gutters. Some homes have hip roofs, meaning they have angels all around. Most homes have roofs ending in gables, which are the triangular ends of your exterior walls that go up to the roof.
Your home does not need gutters along the gables because the water drips off the angled sides. As the water slides off the roof, its path is maintained by the help of metal pieces called drip edges. Most of the water rolls downhill along the flat roof surfaces to fall into your gutters. The gutters move the water to downspouts which take the water away from your home's foundations by way of French drains or gutter extensions.
The only places gutters are attached to your home are at the eaves of those pitched sections. Gutters are never attached along the gabled sides. At the eaves, the gutters are firmly attached to fascia boards.
What are Facia Boards?
Fascia boards or fascia strips cover the ends of your roof's rafters.  Fascia boards are usually attached to rough lumber, which in turn is called sub-fascia.
If you did not have fascia and sub-fascia, your roof and attic would be open to the outside. Insects and rodents could easily climb inside your attic and set up housekeeping. Water could infiltrate your home. In addition to preventing exposure, the fascia boards also provide the foundation for gutters.
If gutters clog or fail, fascia boards can rot easily. They will need to be replaced before gutters can be attached by your local, friendly gutter service.
How are Gutters Installed?
Gutters can be firmly attached to fascia strips using several methods. Gutter spikes, gutter screws, and gutter brackets are all commonly used. The method is less important than the quality of installation by trained gutter service technicians.
Gutters must slope so rainwater rushes to the downspouts. Fascia boards are deliberately wide so a gutter at one end can start at the top edge of the fascia and then slope downward, as much as forty feet. That allows a drop of one inch over the typical maximum distance.
If your old gutters were installed incorrectly, pitched wrong, or are no longer firmly attached, your new, seamless gutters will correct all your problems. The gutter technicians will not use the same attachment holes, but those holes will be covered over by the new gutters.
Who Installs Gutters?
Because so much depends on the correct functioning of your house's gutters, you should trust the work only to a contractor fully experienced in all the necessary steps:
Removing and disposing of the old gutters
Inspecting and cleaning the fascia boards
Replacing fascia strips as needed
Consulting with you to help you choose the best gutter material

(aluminum, copper, or zinc) for your home

Determining the ideal gutter size for your roof expanse
Forming new, seamless gutters in your desired color
Correctly pitching the new gutters
Firmly attaching the new, seamless gutters
Joining downspouts as needed
Verifying pitch and functionality
Gutters are the lowest point of your roof's complete, interconnected roofing system. While a handyman service may claim to be able to install gutters, why risk your roof? Leave the work of installing new gutters to trained roofing and gutter technicians who know how important gutters are.
Gutters keep your Charleston-area home's foundations dry. That is their primary purpose. Second, they also keep your plants and landscaping from becoming sodden and beaten down by falling rainwater. That means your gutters must perform well, year-round, for many years. You need to trust their installation to well-trained, experienced installers from a local, reliable contractor.
You can connect with us today at Trico Exteriors to learn more about sparkling new gutters, new roofing, and a wide range of exterior home services. From roof repair to replacement windows, we can help you improve the look and comfort of your Charleston-area home.