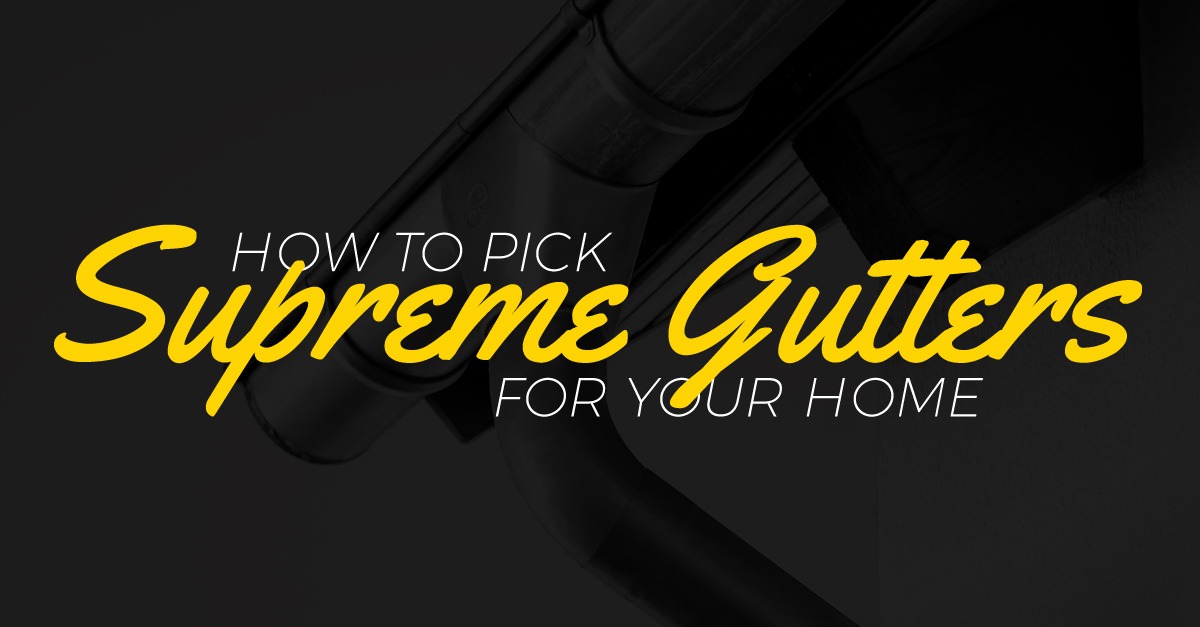 Your home's gutter system performs the vital function of collecting rainwater runoff from your roof and redirecting it away from the foundation. If you're planning to replace your gutters, choosing a supreme system over one that's just average can help you avoid future headaches and costly repairs due to issues like:
Soil erosion and foundation damage.
Deteriorated siding, masonry, window and door trim.
Cracked and sunken hardscapes like the driveway, patio and walkways.
Decayed soffits and fascia boards.
Ruined attic insulation.
Damaged shingles and roof decking.
Mold growth in the attic and hidden areas like exterior wall cavities.
What Makes a Gutter System Supreme?
While there are various types of materials used for home gutter systems, from inexpensive vinyl to high-end zinc and copper, rust-proof aluminum is the most popular material used today. If you opt for aluminum, look for these qualities to help you pick supreme gutters:
Seamless fabrication. Seamless gutters are custom-made to the exact measurements of your roof edge using a continuous coil of aluminum, so they don't have numerous joints that are vulnerable to leaks like sectional gutters that come in 10-foot pieces.
Thicker material. Light-weight aluminum gutters like those found in big box home improvement stores are usually just 0.19 of an inch thick, so they're much more likely to bend and sag than seamless gutters made from sturdy 0.32 gauge material.
Warrantied finish. Aluminum gutters are typically painted and available in a range of beautiful colors. A superior aluminum product will have a lengthy finish warranty that covers peeling, cracking, blistering and chipping.
Secure attachment. Cheaper gutters are often attached to the fascia board with spikes or nails. High-quality systems rely on durable hidden hangers so the gutters can withstand heavy rains without warping or sagging.
Expert installation. You'll find lots of roofing contractors who offer custom gutters, but your contractor needs skill and experience to properly measure and size a system, install the troughs with the right pitch and angle, and position the downspouts for effective drainage. Checking references can help you judge a contractor's expertise, but you should also look for one who backs their gutter installations with a workmanship guarantee.
If you're planning to replace your existing gutters and you're looking for a supreme system that can fully protect your home from rain damage, contact us today at Tri County Roofing, your dependable gutter and roofing contractor in the Savannah area.
Read: How to Choose a Highly Qualified Roof Repair Company