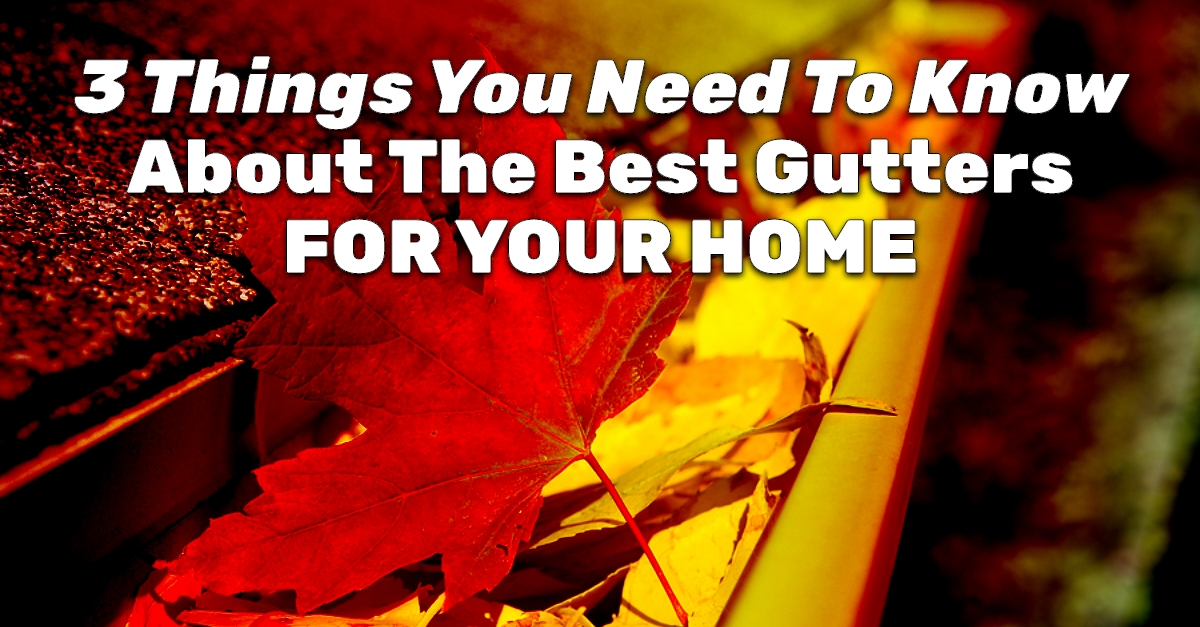 Charleston-area homeowners are blessed to be spared ice dams on their roofs. Yet even with the relatively balmy weather we enjoy, our roofs, gutters, soffits, and fascia boards face real abuse. When should you worry about those roofing elements? Here are three vital facts to file under "Gutters; what to know" in your resource library of home upkeep. 
1 — Why?
Why are the best house gutters seamless? Seamless gutters are manufactured on-site, right at your Charleston-area home. They are measured to fit precisely. They have seams only at corners and downspouts.
Seams are the speed bumps of gutters. They tend to catch debris, often leak, and cause gutters to clog. Even the best installer cannot reduce a seam to a point where it provides no resistance to water. Seams slow water down, cause eddies to form, swirl up debris from the bottom of the gutter, and allow leaves and organic litter to pile up. 
Clogged gutters spell doom for your fascia boards behind the gutters. Worse, they then allow rot and water to set in. Clogged gutters can weaken your home's foundations; instead of draining far into your yard, the rainwater saturates the ground right next to your home. Soon your foundations are soaked. Water finds its way into the crawl space or basement, and suddenly you face thousands of dollars in repair bills.
Seamless gutters reduce friction, allow debris to move along with the water, and look nicer on your home. You will see no odd bits of thin metal bridging the seam between two gutter sections. You will not be bothered by the sight of extra screws or thick adhesive messing up the gutters. You get to see only sleek, trim metal gutters, efficiently ushering water down and away from your home.
Fresh new gutters can boost your home's curb appeal and help you maintain its value. They can definitely help prevent water infiltration, rotted fascia boards, and weakened foundations. 
2 — What? 
What materials make the best gutters? What will new fascia boards be made from? What will new soffits look like? Questions, questions, questions! We have answers.
Gutters can be made from many materials and are available to fit your budget and taste:
Aluminum seamless gutters are made right on-site, at your home, using some serious machinery and a large spool of prepainted heavy gauge aluminum in your choice of color.

Copper gutters

bring an earthy, natural charm to your Charleston-area home, though they are often far more expensive to install.

Zinc gutters add Old World charm to any home, though (like copper) they tend to be costly.
The most popular metal for gutters is aluminum, which cannot rust. Copper and zinc gutters age beautifully, each developing a rich patina over the years. 
Soffits are another roofing component, and one frequently ruined by punishing weather. Your roof ends by hanging past your exterior walls. That small rectangular space, the underside of the roof sticking past your walls, is your home's eaves. Soffit panels cover that space, which can be ruined by rough weather and age. 
Soffits are easily replaced with sturdy, attractive aluminum or vinyl soffit panels at the same time your new gutters are installed. Soffit panels alternate between solid and vented, so your attic gets much-needed air circulation. 
Fascia boards are the final piece of the roof edge puzzle. These decorative molding strips cover the ends of your roof's rafters. Fascia boards also serve to hold the gutters. When fascia rots, water infiltrates, and gutters fall.
New fascia boards can be expertly installed when your gutters are replaced. They can be made from natural wood or from composite materials.
3 — When?
When is the best time to have gleaming, new seamless gutters installed on your Charleston-area home? That question has two answers:
Before you have to replace them

— Your home's foundations cannot afford for you to delay replacing faulty, broken, bent, or worn-out gutters. You risk saturated foundations, wet basements, ruined landscaping, and more when you allow outdated gutters to remain in place.

Spring, summer, or fall

— Gutter replacement is best done under sunny skies; warm weather is fine, and a lovely, clear spring day is ideal.
A roofer is the best contractor to help you determine if you need new gutters. Your local residential roofer can:
Assess your roof's health

Inspect your gutters

Check the structural integrity of fascia boards

Examine your soffit vents
All these components help protect your home from roof leaks, mold, and mildew.
Talk to your roofer about your options, including the Why, What, and When of seamless gutters. Your Charleston-area home is in good hands when you work with us at Trico Exteriors. Contact us today to learn more about our full service, from roofing to gutters and much more.