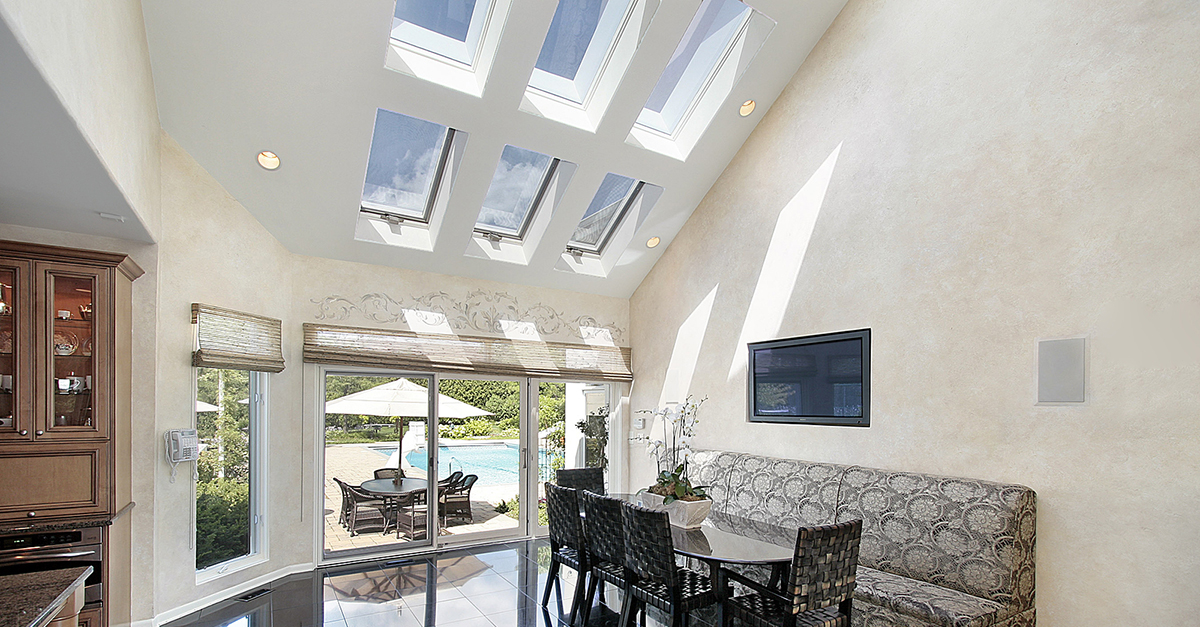 Skylights have long been considered popular additions to a home because of their aesthetic value. Homeowners like the way they look. There are also many practical reasons to have Tri County Roofing & Siding install a skylight in your home. Here are some of them:
1. You Get Free Natural Light
This is the most obvious benefit of having a skylight installed. With your rooms being lit by sun, no longer will it be necessary to have your electric lights running throughout the day. Even on cloudy days, the light from a skylight can be enough to illuminate a room. You will be able to reduce your dependence on the unsustainable fuel sources used to provide electricity while also lowering the cost of lighting your rooms.
2. A Skylight Can Be Installed in Any Room
Small bathrooms where windows are not feasible are popular rooms for skylights. With a skylight, you can have your bathroom lit naturally without sacrificing your privacy.
3. Skylights Can Improve Your Health
Mold and mildew growing in your home can cause health problems due to their effect on indoor air quality. Mold spores can exacerbate allergies and asthma along with a variety of other symptoms including nausea and headaches. One of the best ways to eliminate mold and mildew is with the use of sunlight from a skylight. This helps to bring sunlight into parts of your home that would normally not be exposed to it. It is important that your skylight be designed and installed by professionals or you could end up with leaks in your roof which can worsen your mold and mildew problems.
Other health benefits of being exposed to sunlight include the effect on your mood. Sunlight can cause the release of serotonin and improve a person's mood and ability to focus.
4. Skylights Make Smaller Rooms Seem Larger and More Inviting
Along with illuminating a smaller room, natural light from overhead can make an enclosed space feel more open and inviting. A skylight is particularly beneficial for small bathrooms where large windows are not feasible.
5. Skylight s make Buyers More Interested in Your Home
Curb appeal is important but the reality is that no matter how good your home looks from the outside, potential buyers will likely lose interest if it feels dark and cave-like on the inside. A professionally installed skylight can improve the feel of your home's interior and make buyers willing to pay more for it.
For more information on how our skylight installation services can enhance the appearance and value of your Savannah home, contact us at Tri-County Roofing & Siding.
[button link="https://www.tricoexteriors.com/exterior-services/skylights/" target="self" color="#b20000″ text="light"] Skylights[/button]