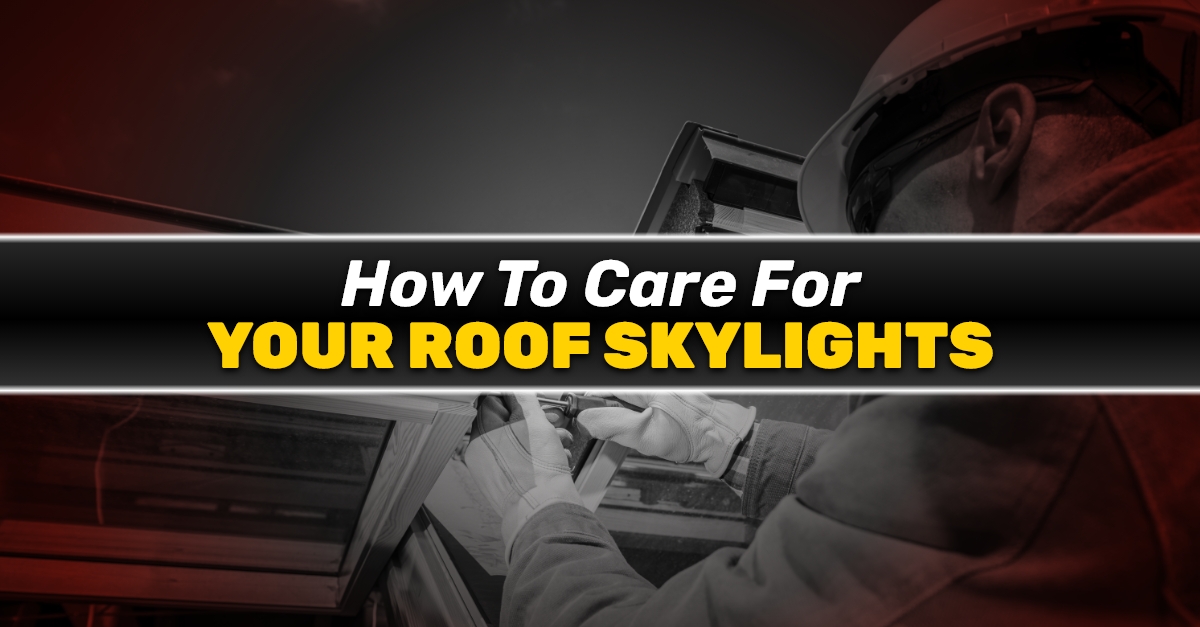 Skylights add beauty to homes. They bring in daylight and fresh air, and help create insulated spaces for improved energy efficiency. Maintaining the skylights of your Charleston home will allow you to enjoy these benefits continuously. What does skylight maintenance entail? Get the details here.
How to take care of your skylights
Maintaining your skylights involves three efforts: 
Cleaning your skylights

Fixing

leaky skylights

Fixing cracks in your skylight panel
How to clean your skylights?
Skylights should be cleaned once or twice a year. In this time, they would have gathered dust, spiderwebs, dirt, dry debris, and dead insects. You'll need to clean the inside and outside of your skylights – but how do you do it and is it safe?
Cleaning the inside glass of your skylight
Mix a few drops of dish soap or another mild soap in water to create a cleaning solution. For stubborn dirt, use water and a vinegar solution (50:50).

To reach your skylight, you will need to use a ladder or fashion a long cleaning stick.
If using a ladder, position it such that you're able to access the skylight without straining

To create the cleaning stick, detach the handle of a mop and tie a rag around the end of the handle
Soak the rag in the solution you've prepared. Wring out the excess moisture and clean the skylight just as you might clean your window.

Dry the skylight. For this, remove the wet rag and secure a dry rag to the handle.
Cleaning the exterior glass of your skylight can be hazardous. Walking across your roof is a safety hazard as it is. Falling through your skylight is an additional danger. We recommend engaging a skylight maintenance service for effective and safe cleaning.
How to deal with
leaky skylights
?
The flashing in skylights will suffer inevitable wear and tear over time. Degraded flashing will lose its waterproofing properties and allow rainwater to seep into the roof surface, damaging your home's exterior and interior. Replacing flashing that is in bad condition will take care of the problem.
Another cause for water leakage is improper skylight installation. Installing skylights is a complex process. Experienced roofing contractors like Trico Exteriors ensure the optimal leak-proof placement of skylights. You won't have to deal with skylight maintenance issues that shouldn't have occurred in the first place.
What to do if your skylight has cracks or breaks?
Modern skylights are made using extremely durable material resistant to external elements and bouts of wrathful weather. However, hail and flying debris can still damage skylight glass. Major thunderstorms can crack or even dislodge older or inferior quality skylights. This is something South Carolina homeowners should bear in mind to avoid any skylight maintenance or installation related mistakes that can turn expensive in the future.
The solution – Replace your skylights
The general rule is that skylights should be replaced every ten years. But if your skylights weren't installed properly, they will start showing problems in the first few years. As a golden rule, make sure to hire experienced roofing contractors that you know will carry out a proper skylight installation.
Keep your skylights in great shape with an annual check-up
At the minimum, you should inspect your skylights annually for issues that require your attention. Look out for the following: 
Leaks and water damage

Visible cracks on your skylight

Signs of condensation on your skylights, which you can fix on your own by keeping your skylights open for about five minutes a few times a day
For the best results, we suggest you have a skylight maintenance company inspect your skylights. They will be able to identify problem areas that may have escaped you.
If you need to walk across your roof to inspect your skylights, we'd advise you against it. Leave the job to professional maintenance technicians trained to use safety equipment and protocols for accurate and incident-free skylight inspection and maintenance.
Your roofing contractor may also offer maintenance services. In this case you should call them to check your skylight and perform minor repairs or fix leaks as needed.
How to get started?
When you notice water damage in your walls, have your skylight and roof inspected immediately by Trico Exteriors. We offer roof and skylight maintenance and replacement throughout Charleston, SC. As a multi-generational roofing contractor, we've performed various types of skylight repairs. We also install quality skylights based on the unique space and construction parameters of your home. If you need to replace your old or poor quality skylights, leave us a message and we'll get back to you in a jiffy.