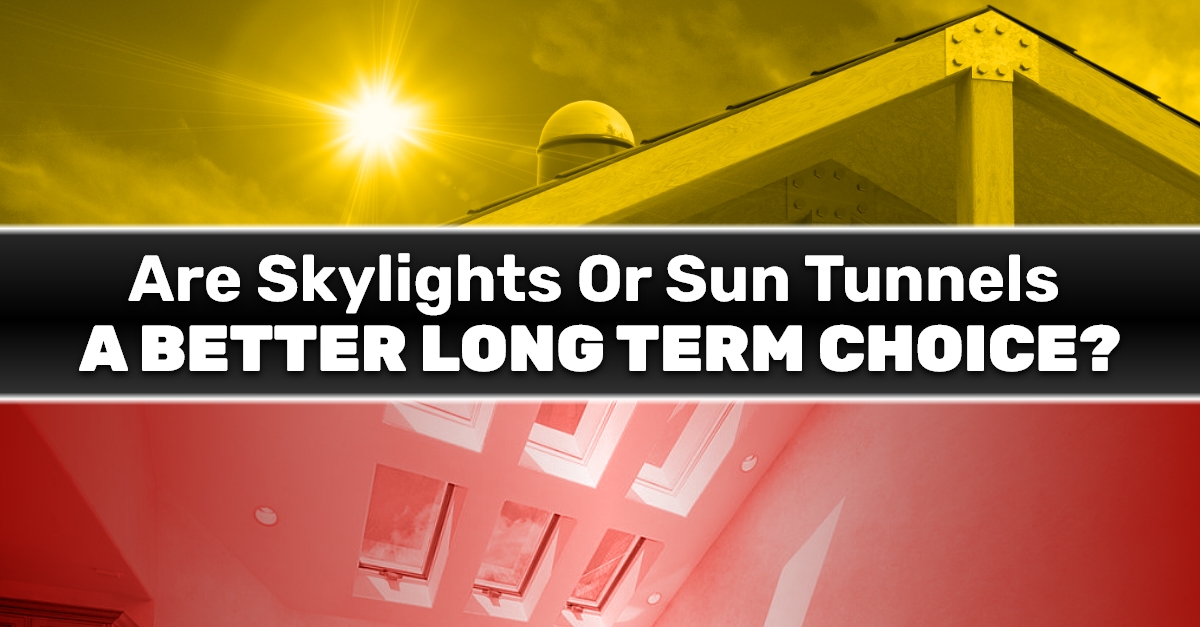 When you want to add natural light to your home, skylights and sun tunnels both offer a way to do so. Which is better, though, skylights or sun tunnels? Learning more about the differences between them can help you decide which to get for your home as a long-term investment.
What Are Skylights?
Skylights are structures installed in your roof that let more natural light into your home. Some are fixed, while others can be opened and closed for ventilation. Fixed skylights are mainly used to allow more natural light into homes and provide outdoor views. Vented skylights are mainly used in areas that need ventilation, such as bathrooms or kitchens, although they can be installed in other areas.
What Are Sun Tunnels?
Sun tunnels are tubes installed in your roof that help natural light reach certain areas of your home. These tunnels or tubes do not open. Sun tunnels consist of flexible tubing that runs from your roof to your home interior. This tubing has a reflective coating that helps direct sunlight into your home and a weather-proof covering on the exterior.
Similarities Between Skylights and Sun Tunnels
Skylights and sun tunnels both allow sunlight or daylight to reach your home interior. This can help brighten up parts of your home, such as rooms that don't have windows or areas that don't get a lot of light.
Skylights and sun tunnels are both installed on your roof. This involves creating an opening in your roof, which is then sealed around the edges to lower the risk of leaks, drafts, pests, and other problems.
With a skylight or sun tunnel in your home, you'll have improved energy efficiency. Both skylights and sun tunnels help reduce the need to turn on indoor lights, which helps cut down on your energy usage.
Differences Between Skylights and Sun Tunnels
Despite similarities, skylights and sun tunnels have a few notable differences. Skylights have a more complex installation process, since they take up more space on your roof. Sun tunnels are smaller overall and don't require as much roof space, which makes the installation process easier.
Skylights can be used to improve ventilation in your home. Some skylights can open and close to let in outdoor air. Sun tunnels can't be opened or closed, so you can't use them to ventilate your home.
Skylights and sun tunnels both let in solar heat from outside. However, skylights let in a greater amount of solar heat due to their size and design. Solar tubes don't let in as much solar heat. Having this heat in your home can help you reduce your heating bills during winter.
Benefits of Skylights and Sun Tunnels
Skylights and sun tunnels both offer certain benefits that can make them a good investment for your home. Both of these can make your home interior brighter, although the amount of space that gets light is more limited with sun tunnels. Having a brighter interior can help cut down on energy usage while also giving your home a cheerful ambience.
Skylights are available in different materials and styles, giving you more options to choose from. The right skylight design can enhance your home's appearance. Sun tunnels are more limited in terms of design options. Since they're small, they also don't have as much of an effect on your home's appearance.
Some skylights have features that you won't find with sun tunnels, such as blinds that can open and close remotely. Due to the design and size, these kinds of features aren't needed with sun tunnels.
Potential Drawbacks
Skylights and sun tunnels both involve putting a hole in your roof for installation. If this isn't done properly, you can end up with leaks when it rains. Having gaps or holes around skylights or sun tunnels can also allow pests to get into your home. Ensuring proper installation can help reduce the risk of this drawback.
Skylights and sun tunnels can be costly, although skylights typically cost more. Skylights require having more work done on your roof during installation, which can lead to higher labor costs. Sun tunnels can be more budget-friendly, although you won't get ventilation or sky views with this option.
Talk to Local Roofers About Skylights and Sun Tunnels
If you have more questions about skylights and sun tunnels or if you need help choosing between them, reach out to local roofers at Trico Exteriors. We can go over the pros and cons of skylights and sun tunnels and evaluate different factors to help you make the right choice for your home.
If you're thinking of getting skylights or sun tunnels for your Charleston home, please contact Trico Exteriors. Our roofing experts can help you determine which type is better for your home.