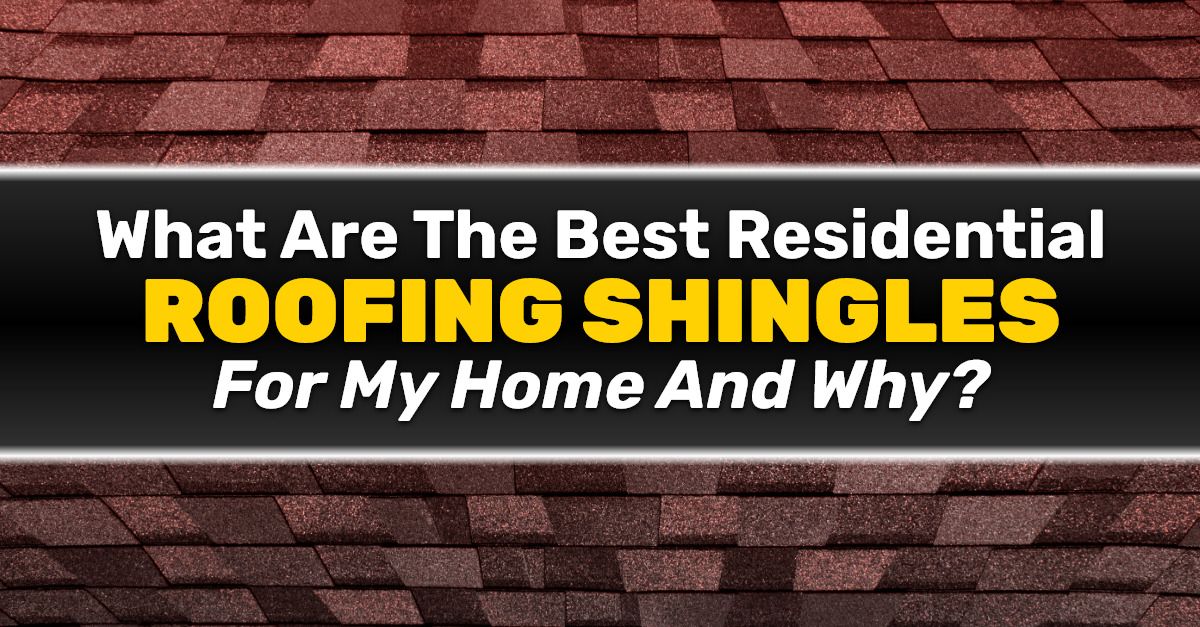 Roofing shingles are today's most popular residential roofing material in North America, and with good reason. They have a relatively inexpensive upfront cost, are easy to install, and are designed to protect a home through decades of exposure to the elements.
But choosing the right one for your home can be overwhelming. There's no shortage of options when it comes to materials, brands, colors, and styles. Luckily, we've compiled this guide to help make that decision easier for you. 
Types of Asphalt Roofing Shingles
Residential roofing shingles are commonly manufactured in three different types:
3-Tab Asphalt Shingles
Also known as strip shingles, 3-tab shingles derive their name from the three tabs on each shingle strip. They are the original and most basic type of asphalt roofing shingles.
You can identify these shingles by their simple, consistent appearance. They are made from a single asphalt layer, and the individual shingles are perfectly rectangular. 3-tab shingles lay flat next to each other, providing a symmetrical look across the roof.
Because they are made from a single layer of asphalt, they are the lightest and least expensive asphalt shingles. 
Architectural Shingles
The most prevalent roofing shingles on the market today, architectural shingles, are also called laminate or dimensional shingles. The critical difference between these shingles and 3-tab shingles is their construction. 
Architectural shingles are composed of asphalt and fiberglass laminated layers to provide a dimensional look. Roofs covered in architectural shingles have enhanced aesthetics and visual thickness. 
Unlike 3-tab shingles, which are cut into identical shapes, architectural shingles come in varied sizes and shapes. Manufacturers also use a band of darker granules to add a shadow line to the shingle. The variation in sizes and patterns, in conjunction with the intermittent shadow band, helps add dimension to the roof.
Due to their increased thickness, architectural shingles have an advantage in weather resistance. They have a 20 to 30 years lifespan and can withstand winds of up to 130 mph.
Luxury Shingles
Luxury, premium, or designer asphalt shingles are larger than 3-tab and architectural shingles. They are the highest quality roofing shingles, offering exceptional protection against the elements. They consist of several layers of fiberglass coated in asphalt.
Luxury shingles have a differentiated appearance that outclasses that of architectural shingles. They present the highest coloration and dimensionality. Many premium shingles mimic the look of quarried slate and wood shake roofing, giving you the unique look of these traditional roofing materials without their high cost and other drawbacks.
Premium shingles are more expensive than dimensional and 3-tab shingles. But properly installed and maintained, they can last up to 50 years.
What to Look for When Choosing the Right Shingles for Your Home
Choosing the right roofing shingles is not just about aesthetics. It's also about how the roofing material protects your home and your family and how it adds to your home's overall value. Here are some factors to consider before making your decision:
Quality
Roof replacement is one of the most expensive home improvement projects you could pursue. You must invest in quality instead of the lowest-priced option to get the most out of your new roof. You'll get the lowest quality material if you decide to go cheap. This will show in the finished quality of your roof. You'll spend more in the long run with more frequent repairs and an earlier replacement.
Durability and Longevity
When you invest in a new roof, you want to get the most out of it. That's why it's essential to consider the durability and lifespan of each of the asphalt shingles.
Quality roofing shingles may require replacement once in your lifetime, while other, cheaper options will need to be replaced in just over a decade. 
3-tab shingles have a short lifespan, lasting between 7 to 15 years, based on the local climate. Dimensional shingles have a lifespan of 20 to 30 years, while luxury shingles have the potential to go over 30 years under the right conditions.
Architectural and luxury shingles hold up better and last longer since they are thicker and built with better construction. Your roofing shingles will reach the specified lifespan if installed and maintained correctly.
Wind Resistance
You want to consider the overall wind rating of different types of shingles when it's time for your roof replacement. Ideally, your roof should withstand maximum wind speed in your area. 
3-tab shingles can only withstand up to 60 mph, while architectural shingles are designed to withstand wind speeds up to 130 mph. Premium shingles can protect your home against winds up to 150 mph. You can save a little here if your home is not located in a high-wind zone.
Impact Resistance
Another beneficial feature you may want to consider is the shingles' impact resistance. Four levels of impact resistance measure how fiberglass or composite mat in the shingles will hold up to hail or falling debris. Areas prone to hail or high winds benefit from high-impact shingle varieties.
Aesthetics
No doubt, durability, performance, and longevity matter the most in a shingle roofing system, but that doesn't mean you can't have a beautiful roof that complements your home's color and architectural style. Roofing shingles are available in a wide range of colors, so you can find one that fits your home's exterior design. 
Architectural and premium shingles mimic other roof types to give you a unique look. If, for instance, you want the look of a beautiful slate tile or cedar shake roof without the high price, consider going with an architectural or premium shingle.
If you don't care about aesthetics, 3-tab shingles may be right for you. 
Warranty
A roof is critically important to the health and performance of your home, which is why you need to consider both manufacturer and workmanship warranty coverage when making your material selection. Since roofing shingles are not created equally, warranty coverage options will be varied. Some are standalone, while some are bundled together. Other warranty options are extended. Consider the length of the warranty, as well as the terms and conditions.
Need Help Choosing the Right Roofing Shingles?
When it comes to shingle roof selection and installation, choosing a knowledgeable and reliable roofing contractor is crucial. The team at Trico Exteriors has provided high-quality roofing services in Charleston, SC, for over 40 years. We're certified by GAF and CertainTeed to offer you the best roofing shingles and warranties possible. Contact us today to discuss your roofing needs with our roofing experts.