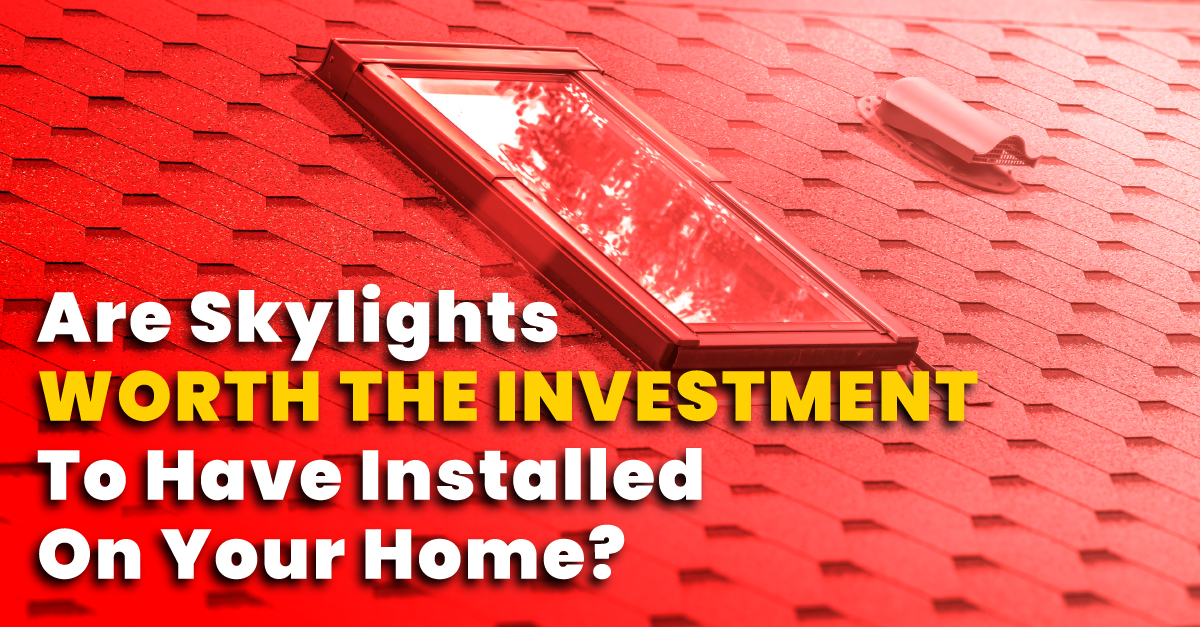 Skylights are hardworking fixtures. When strategically placed, they can add a wash of natural light to your home, add a luxurious feel to your master bath, or open up a dim corridor. Some skylights can be opened to let in additional streams of airflow. 
Many have found skylights to be a relatively straightforward and eco-friendly way to bring a little extra sunshine into their homes. Still, many wonder: "Are skylights energy efficient? Are they a good investment?" The answers to these questions depend on the type of skylight chosen and the quality of installation. 
Are Skylights Energy-Efficient?
With informed selection and proper installation, skylights can be an excellent and energy-efficient addition to your home. Here's how it works:
Skylight Selection
Complaints with skylights usually arise from improper selection and installation. If you choose the wrong type of skylight, you're bound to end up with issues such as high energy bills, moisture problems, and rooms that are unusable during the warmer months.
An energy-efficient skylight will have a low U factor, which means solar heat will transmit through it slowly. Generally, the lower the U-value, the less energy is required to maintain comfortable temperatures in your home.
You'll also want to consider the solar heat gain coefficient (SHGC), which will tell you how the skylight transmits and converts solar energy to heat. A skylight with a high solar heat gain will keep you warm in the winter but could make the room uncomfortable during the summer.
Also, the physical size of the skylight will have a significant impact on the illumination level and temperature of the space below. The size of flat skylights should be no more than 5% of the size of the floor of a room with many windows. If a room has few or no windows, the skylight size should not exceed 15% of the room's total floor area.
Consider how larger skylights can drive up energy bills because they subject your home to more heat loss and gain.
Skylight Position
Orientation plays a role in solar heat gain and skylight energy efficiency. If you want to ensure the lowest amount of passive solar heat enters your home, consider installing your skylight on a north-facing slope. 
A south-facing skylight may offset heating costs in the winter by providing the greatest winter passive solar heat gain, but this is only ideal in a climate with relatively few hot days. East- and west-facing skylights are a more neutral option as they provide heat gain in the morning or afternoon.
Installing your skylight in the shade of delicious trees is another way to harness natural light and limit summer heat gain.
Skylight Glazing
Many newer skylight models have various glazing technologies to reduce summertime solar heat gain and winter heat loss. These include:
Low-emissivity (Low-E) coatings

Insulated glazing

Heat-absorbing tints
Some manufacturers install a translucent insulation material between glazing layers to create a more thermally efficient fixture. Skylight shades, blinds, and screens can also be used to block solar heat on warmer days. Many are remote-controlled, so no scary trips up the ladder for you.
Proper Installation
Proper installation is crucial to ensure your skylight achieves its energy performance. It's best to get a professional installer to help locate the ideal for your new skylight and follow the manufacturer's guidelines. Slope and moisture control should also be considered during installation.
Reduced Reliance on Artificial Lighting
In addition to providing more energy savings when it comes to heating and cooling, properly installed skylights have the potential to reduce electric bills. Skylights provide extra illumination on dark areas, bathrooms with no windows, or rooms with very little natural light from their existing windows. 
Maximizing the amount of natural light that comes inside and cutting down the number of lights you turn on during the day can save you money on your electric bill.
Better Air Flow and Ventilation
Some models of skylights are automated and can be opened up in warmer weather to allow for greater airflow in the home. Warm air naturally accumulates near the ceiling, so when the house gets a bit stuffy in the summer months, you can open the skylight to provide a way for hot, moist, or stale air to exit upward.
Ventilating skylights typically open outward, but some models vent through a small, hinged panel. Manual skylights may be opened with a pole, crank, or chain. Whatever model you choose, encouraging natural airflow and circulation will keep the atmosphere inside your home more comfortable and reduce your cooling costs.
Other benefits of skylights include:
Making your space feel more open and starving off cabin fever

Changing the atmosphere of your room

Allowing star-gazing from the comfort of your bedroom or living room

Increasing your vitamin D levels and elevating your mood

Adding value to your home
High-Quality Skylight Installation in Charleston, SC
If you're ready to let some much-needed sunshine in with new skylights or just have some questions, talk to the team at Trico Exteriors. We proudly install Velux Skylights and can help you choose the best skylight for your home. Our installers are trained experts and will make sure the placement of your skylight is optimal and leak-proof. Contact us today to schedule your free consultation.