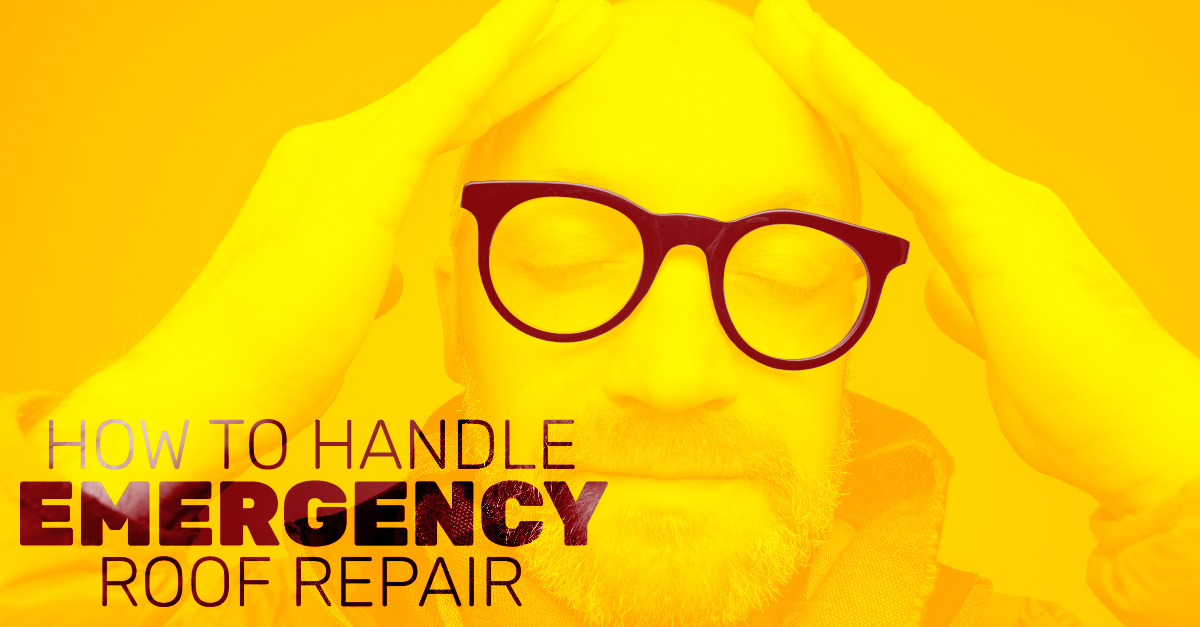 When a storm rolls through it's important to take notice of the rest of your home once you make sure your family is safe and sound. Starting with the roof. You'll want to do a number of things to ensure everything is okay, including:
Visually inspect the roof from the ground

Check for leaks inside

Look for missing shingles or other changes

Watch for large branches on the roof
Once you figure out if anything has happened to your roof you can decide what you need to do about it.
Visual Roof Inspection
The first thing you can do after the storm has cleared off is take a look at your roof from the ground outside. Does it look different than before? Are you missing shingles or can you visibly see a hole which wasn't there before? Are there branches sitting on the roof, meaning a tree may have hit it as limbs blew away? You might also notice dents in the shingles from hail or other storm-related things. The visual inspection should always be done from the ground. If you don't know for sure that there's anything wrong, you can call a professional for a more thorough inspection later.
Inside Leak Check
If there are new leaks on the inside of your home, you will surely notice those. You might notice water on the ceiling, soaking into the walls, or even leaking through to the flooring. If you don't see anything on the upper level of the home, check inside the attic to see if anything is wet. The storm could cause a slow leak which won't be visible right away so you will want to keep checking for leaks over the next few days. If you suspect a leak but don't see anything at the moment, have a professional inspect the roof inside and out to see if there are leaks coming through later.
Emergency Repair Situations
Some situations call for emergency roof repair after a large storm comes through. You will most likely know it when you see it. If you have a significant amount of water coming through or a big hole in the roof, that is an emergency situation you don't want to let sit for very long. In those cases, you need to get a hold of a roofing contractor right away. If you aren't sure what constitutes an emergency, ask the contractor over the phone or have them come take a look as soon as possible.
While some situations are emergencies, others can wait. If you have missing shingles, for example, they won't cause immediate damage to the interior of your home right away. It could cause damage to the underlying portions of the roof so you will definitely want to address it sooner rather than later. It won't happen right away so you can get in line with others who have larger emergencies. If you have a small leak you will want to get it taken care of as soon as possible, but it may not be a huge immediate emergency.
Call A Roofing Contractor Any Time
After a storm comes through, it's always best to have your roof inspected. You may not be able to see all of the damage a storm has done from the ground and neither should you go on the roof yourself. A professional roofing contractor, however, can get up there and inspect things on the outside as well as take a look at how things are operating inside. They can then take care of even small things the storm may have damaged before larger issues ensue. When you work with a professional they can also help you organize repair costs with your insurance company if the damage has been done from the storm. It's always okay to call a roofing company even if you don't know for sure if you have damage. You can get an inspection and carry forward with peace of mind.
If you need maintenance on your roof, some kind of repairs, a complete replacement, or a simple inspection after a storm comes through, contact Tri County Roofing. We're here to help with all of your roofing needs. We're happy to inspect your roof for any damage after a big storm. You can trust our professional opinion and our workmanship.