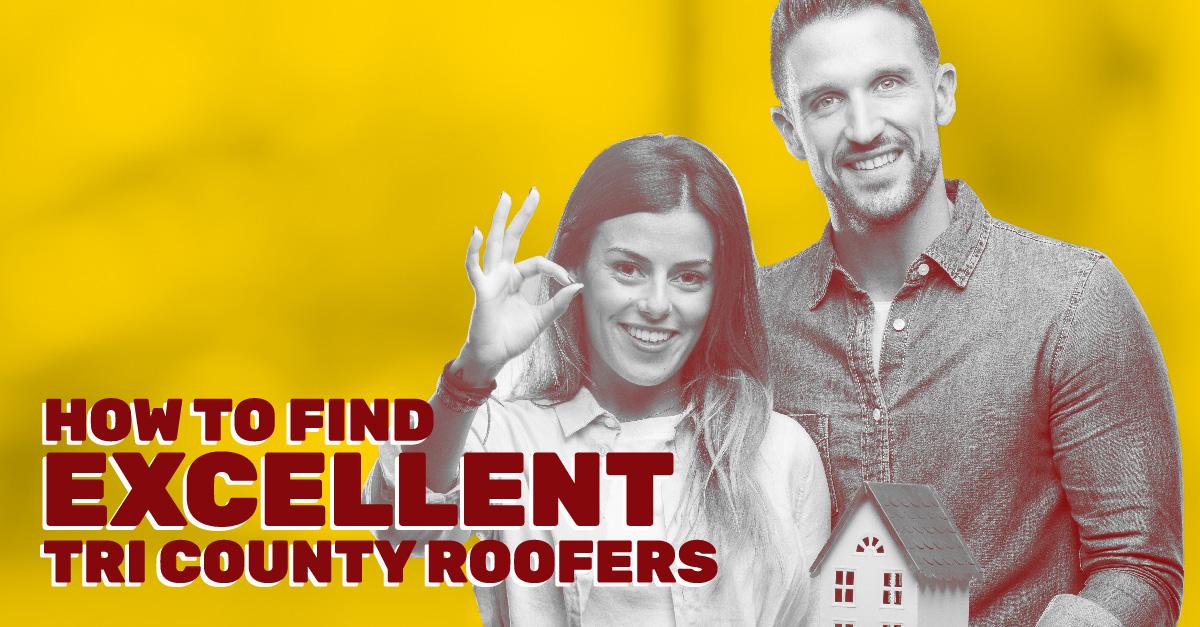 As a residential homeowner, you should be concerned about the long-term health of your roof.
Working with seasoned installers and making the right choices on roofing materials are essential steps toward keeping roofing costs under control. Here are keys to finding a superior Tri-County roofing service.
Choosing the Right Roofer
Putting too much emphasis on cost can sometimes be more costly than prioritizing roofing quality. If you only go by the lowest bid, you can end up with a roofer who may lack the experience and expertise needed to get the job done right the first time. You can avoid this problem many cost-conscious homeowners go through by focusing on the big picture.
Beware of roofing companies who move from town to town based on where they can get the most work following a storm. Since it's so challenging to serve a community for decades, many roofing companies only last for a short-term. Part of the reason they fold is they cannot afford to invest in quality materials, well-trained talent, or customer service representatives who call each customer.
If you get stuck with a fly-by-night operation and start having issues with their work, you may need to find another roofer to redo the same work again. To avoid this expensive scenario, make sure you start off with a roofer who has plenty of experience, stability, and a trusted reputation.
To know you are working with an excellent roofer, look at their certifications, which tells you they continually work to improve their craft. Credentials indicate the material manufacturer has trained them and they follow industry best practices. It's also important to make sure the roofer is insured and bonded.
What Certifications Does Tri County Have?
You want a local roofer who has been in business for many years, participates in community events, and hires trained professionals instead of novice assistants. Their experience shows they are stable, are in touch with their community, and will be around should any damage or warranty repairs come up. They should live and work in your community and strive to have a good reputation.
Tri County Roofing has been serving Charleston, Myrtle Beach, and Hilton Head since 1973. Talk to your neighbors – chances are they may have worked on roofs in your neighborhood! They hold the following certifications.
GAF Materials Corporation

CertainTeed Corporation

factory-trained estimators, foremen, and installers
GAF is North America's largest roofing manufacturer. Tri County Roofing holds their top honor, the Master Elite title. CertainTeed is a leading manufacturer of building materials in North America. Tri County Roofing and Siding is a SELECT ShingleMaster (SSM), which is the manufacturer's top credential for residential roofing.
Working with certified technicians is crucial since it means they install materials according to the manufacturer's specifications. Following proper procedures protects the warranty and reduces the chances of future maintenance issues. You should avoid any roofer who lacks the proper certifications, tools, licensing and expertise.
How Tri County Helps the Community
Dedicated local roofers help out the community in more ways than one. Not only should they help the local economy by hiring employees and working with regional suppliers, but they should also be giving back to the community. Getting involved with local charities and events is an important way to show commitment for serving a community over the long-term.
Tri County has partnered with various entities to show community support such as Debbie's Kids, a partnership with the Salvation Army. While GAF has donated shingles, Tri County has donated labor to build roofs for medical patients at no charge. The roofer also participated in the 2012 Breast Cancer Fundraiser.
To show support for the troops, Tri County teamed up with GAF in 2015 for a program called Roofs for Troops. This program awarded active military, veterans, and retirees with a $250 rebate on a GAF Lifetime Roofing System.
Communication and Your Roofer
Giving your prospective roofer a call will tell you a lot about their communication style. They should be courteous and prompt, always meeting your expectations and then exceeding them. Make sure they answer your questions clearly and have your best interests in mind.
If you are going for amazing quality roofing, you need experts who understand the local climate, regulations and the community. Call Tri County Roofing and Siding at 843-572-2175 to learn more about how we can help you achieve your roofing needs. We're a multi-generational family who cares about making our community better.
Read: Why Hiring A Professional Roofer Matters