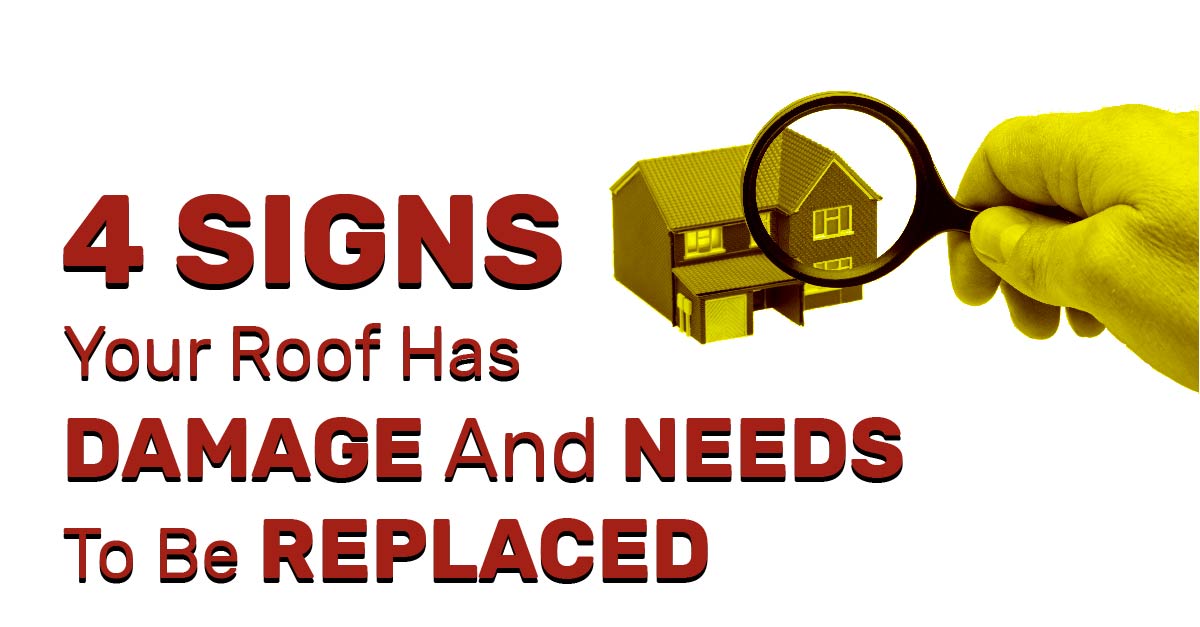 There are many reasons a roof might need to be replaced. Extreme weather damage, lack of maintenance, or the original roof was improperly installed are just a few. But no matter the reason, it's important to work with a roofing company that understands your roof's needs. How can your roof get damaged?
Aging Shingles
Typical asphalt roof shingles have a lifespan of around 20 years. Their lifespan can be shortened by storm damage or lack of maintenance, or it can be extended through proper care. Still, there will inevitably come a time when every roof needs to be replaced. Shingles can show signs of aging in several ways:
Shingles are missing, torn or broken

Moss has grown over large areas of the roof

Shingles are curled at the edges

The granule coating has worn away, leaving shingles "bald"
Depending on the extent of the damage to your shingles, repairs may be possible, or roof replacement may be necessary. It's important to take care of aging shingles early before they fail completely and lead to more extensive damage to the underlying layers of your roof. 
Lack of Maintenance
The roof is arguably the most important component of your home. It protects everything—and everyone—beneath it, which is why it's essential you make sure your roof is properly maintained. Investing in routine roof maintenance keeps your family safe, makes your roof last longer, and saves you money by avoiding roof replacement costs. 
We generally recommend having your roof inspected and maintained at least once a year by a roofing professional, but twice a year is preferable—once in the spring and once in the fall. Scheduling maintenance twice a year ensures that your roof will be ready to face all the changing seasons. Roof maintenance should include:
Checking for loose and broken shingles, and replacing them as needed

Inspecting the layers of your roof beneath the shingles for damage

Cleaning out gutters and downspouts, and making sure they're securely connected

Inspecting flashings around chimneys, skylights and other areas

Cleaning the roof surface to eliminate mold, moss, and lichens

Making sure other roof components are sound, including fascia and soffits
Improper Installation
The unfortunate truth is not every roofing company does work to the highest standard. If you've purchased an older home, it's also impossible to really know every detail about the work that's been done on it. 
In truth, any number of roof repairs could have been carried out before you owned the home. It's possible that a previous owner attempted to repair the roof themselves, or hired someone else to do it without the proper qualifications. Sub-par work almost always leads to even greater problems down the road, which is why we recommend that you only work with qualified roofing professionals.
Storm Damage
Storms can take a serious toll on roofs. With high winds and heavy rains, storms often move through quickly and with little warning, and any type of roof is vulnerable. The extent and severity of damage can be unpredictable as well; you've probably seen a storm wreak damage to one home, but leave the house right next door unscathed. Some of the most common ways storms can damage your roof include:
High winds can tear shingles away, leaving bare patches. If wind and rain occur at the same time, missing shingles may also provide a path for water to get in.

A lot of debris can also be thrown around by wind storms, including heavy branches. It's wise to prune overhanging branches and trees which could potentially damage your roof in a storm.

Hail causes damage too, and it may be more than meets the eye. You may see only a few "dimples" in your shingles after a hailstorm, but heavy hail can also cause unseen damage to the underlying layers.
Beyond the obvious damage to shingles, storms can hurt the structure of your roof in various ways. It's recommend scheduling roof maintenance in springtime, before hurricane season threatens, to make sure your roof is prepared to face any upcoming storms. Choosing a roofing contractor who provides emergency roof repair and replacement is important. In the event your roof is damaged by the weather, you'll have someone you trust to turn to.
Contact us today to learn more about working with Tri County Roofing in Charleston, SC. We're a family-owned company with generations of experience in roofing. We offer emergency storm damage repair to keep you covered. From Myrtle Beach to Savannah, we're dedicated to keeping every roof safe and sound for all our friends and neighbors. Contact us today for more information.