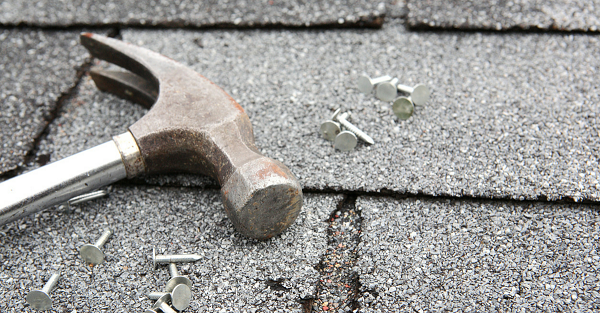 Shopping for a new fiberglass-asphalt shingle roof is unlike any other high-value purchase. You cannot take your existing Charleston roof around for contractors to make bids on, nor is there a roofing showroom where you can grab a cart and pick out the ideal brand and model. Your local, reliable roofing contractors will come to you, and prepare written estimates. Just what is included in the cost of fiberglass-asphalt shingle roof replacement?
Breakdown
The fiberglass-asphalt shingle is the single most popular roofing material in America. It is relatively inexpensive to install, fits just about any roof type, goes down quickly, comes in a wide variety of colors and styles, and lasts a reasonably long time. Because of its popularity, the average cost of fiberglass-asphalt shingle roof replacement is actually quite low compared to other materials, such as clay or cement tile, or metal.
The costs for shingle roof replacement break down into roughly four areas:
Labor—between 18 percent and 27 percent of the overall cost of your shingle roof replacement
Fiberglass-Asphalt Shingle Roofing Materials—between 69 percent and 77 percent of overall cost
Accessory Materials—between 2.8 percent and 3 percent of overall cost
Equipment Costs—less than one percent of overall cost
Labor
Labor costs for roofing, like most construction work, have not varied much from year to year over the past half decade. The work is skilled, often challenging, and fraught with risk. A steeper roof pitch (the angle of your roof) will demand a higher cost, while a flatter roof (depending on its complexity) will require less.
The first step with shingle roof replacement is the careful removal and disposal (or recycling) of the old roof. The old underlayment is removed, sheathing inspected, and the new roof begun.
Most professional, experienced roofing contractors can complete a typical 1,200-square-foot roof in around 45 work hours. A crew of five, then, could get a Charleston home re-roofed in just over a day.
Fiberglass-Asphalt Shingle Roofing Materials
Your finished fiberglass-asphalt shingle roof is actually a complete interconnected system. The shingles are but one component.  For shingles, we like to stick with GAF and CertainTeed shingles, which are slightly more expensive than some other brands on the market, but last significantly longer. Other parts of the roofing system include wood sheathing, rolled underlayment, starter strips and ridge vents.
Accessory Materials
Your completed shingle roof replacement may include costs for fresh drip edge, fasteners, new ventilation and new flashing.
Equipment Costs
Your final invoice must include the roofing contractor's investment in tools, such as roof jacks, shingle cutters, pancake compressors and pneumatic nailers. Your contractor also faces costs for liability insurance and fuel.
Reminder
Each task and roofing project is different.  With communication – and a roofing contractor who knows his business – your roof replacement will be well worth the investment. (Financing options are also available to homeowners.)
Contact Tri County Roofing and Siding, serving the Charleston area, for more information on your roofing needs.
[button link="https://www.tricoexteriors.com/roof-replacement/shingle-roof-replacement-2/" target="self" color="#b20000″ text="light"]Do You Need a Roof Replacement?[/button]