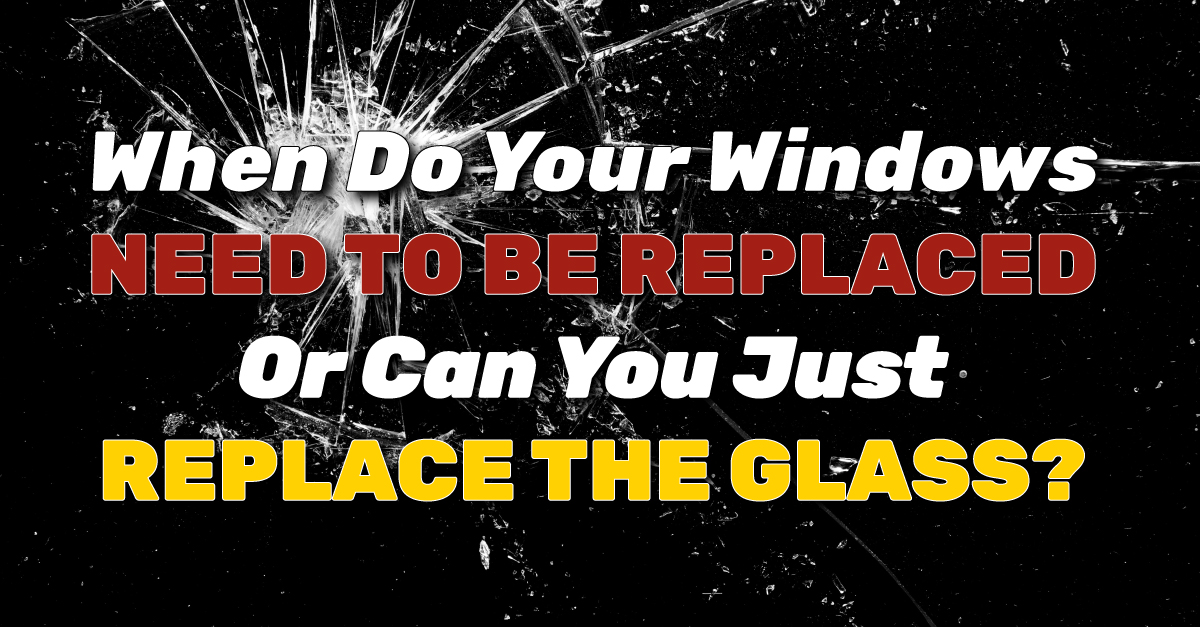 When you have older windows or windows showing some signs of wear and tear, should you get new ones or replace the glass panes? Knowing when to replace residential windows is important to keep your Charleston home feeling comfortable all year round. Having newer windows also helps improve your home's energy efficiency.
Can the glass in storm windows be replaced? You might be considering only replacing the glass panes to save on costs, but this might not be the best option in some instances. Find out more about how to tell if you should replace your entire windows or just the glass.
How Long Do Windows Last?
Knowing how long windows typically last can help you determine if it's time to have them replaced or get new glass panes only. High-quality windows can end up lasting between 15 and 20 years, especially if they were installed correctly. If your home has windows older than 20 years or are close to reaching their lifespan, you should look into replacing them.
When Do Windows Need Replaced?
Your entire windows, including the frames and glass panes, might need to be replaced when they show certain signs of damage or wear and tear. Being familiar with these signs can help you determine if it's time for window replacement.
You might need to have your windows replaced if they are cracked, broken, or have other damage. If a single pane has a crack, you might be able to have the glass replaced. However, having damaged or cracked frames means you should have the whole window replaced. This helps keep out drafts, pests, and other potential issues that could make your home uncomfortable or even unsafe.
Window replacement is also needed if yours are foggy or drafty. Windows letting in air from outside shows signs of wear and tear, which means it's time for a replacement. These drafts can make it harder for your home to stay cooler in summer or warmer in winter. You should also have your windows replaced if they won't stay open.
You should look into window replacement if you have leaky windows. They could be letting moisture into your home, which can lead to mold growth and high indoor humidity levels. Newer windows can provide your home with better energy efficiency and keep moisture out.
If you have single-pane windows installed, consider replacing them with double-pane windows or triple-pane windows. Double and triple-pane windows provide your home with better insulation, as well as soundproofing properties to block outdoor noises. Poor insulation from single-pane windows can decrease your home's comfort while also raising your energy bills, especially when it's hot out.
Replacing your windows is a good option when they have visible damage on the outside. Windows with this kind of damage can lower your home's curb appeal while also making it easier for pests or air to get inside. This kind of damage can make your home less secure from intruders as well.
When to Replace the Glass Only
You might not need to have your windows replaced in some cases. If you have newer windows, you can have the glass panes replaced rather than the whole window. You might consider this option if you have window frames in good shape and but there are problems with the glass, such as condensation between panes.
You can also have the glass panes replaced if you have damaged glass, such as a cracked pane. When your windows are newer, there's no need to have the frames replaced along with cracked or damaged panes, as long as the frames are in good condition.
High-Quality Windows in Charleston
Trico Exteriors can provide your home with high-quality windows when you need them replaced. We work with Simonton windows, which offer a high amount of energy efficiency and energy savings. Simonton windows are triple-pane and have Low-E coatings to help your home stay cooler in summer. They also offer superior performance in noise reduction and security.
Experienced local contractors can help you determine if you should have your windows replaced or just the glass. At Trico Exteriors, we offer window installation services for homeowners in the Charleston area. Contact us to learn more about our window services.