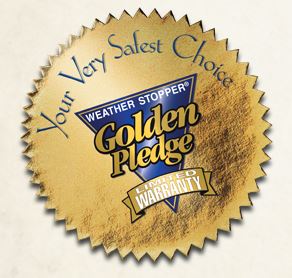 You have just gotten a new roof from the team at Tri County Roofing and its time to activate your Gold Pledge Warranty. At that time an independent inspection team from GAF will perform an exclusive 40-Point Inspection of your finished roof. But have you ever wondered, "What does the inspection team look at when they are doing a Gold Pledge Warranty inspection?" The inspectors look at your roof from three perspectives, the ground, the ladder, and on the roof itself. As you might expect they get a different view from each of these locations.
From the Ground
The primary thing they look at from the ground is the general appearance of your roof. Does it have the correct color blend? Is it the right shingle style?
From the Ladder
From the ladder they check to make sure that the drip edge was properly installed. They also check for the proper installation of either the Weather Watch or StormGuard underlayment and that the the starter strip has the correct amount of overhang.
On the Roof
The main portion of the inspection takes place up on the roof. Here they inspect the shingles, valleys, nails, hip & ridge cap, flashing, and if there are any chimneys. There are also special things they check for on structures with mansard steep sloped roofs. From shingle alignment and condition, properly woven valleys, nails driven into the right place at the right depth, ensuring the correct ridge venting is properly installed, all flashing is done correctly, to all work around the chimney area, every aspect of your new roof is reviewed to insure that the quality of the workmanship will provide you with a roof that meets GAF's warranty standards and will stand the test of time.
Whether you live in Charleston, Mount Pleasant, Summerville, Ladson, or beyond, Tri County Roofing can provide you with the top quality roof you need backed by the GAF Golden Pledge Warranty. Talk to a Tri County Roofing consultant today!