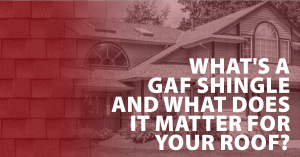 Fiberglass-asphalt shingles are the backbone of the American roofing industry. This type of roofing material covers more houses than any other, and is always the #1 best seller year in, year out. The #1 best-selling brand of fiberglass-asphalt shingle in North America is GAF's Timberline®. What makes a GAF shingle special?
GAF
Since its founding in 1886, GAF has grown to become North America's largest manufacturer of commercial and residential roofing. The company generates nearly $3 billion in annual sales, partly because of its relentless pursuit of quality. GAF has won the 2012, 2013, 2014, 2015 and 2016 Women's Choice Award, with 9 out of 10 female customers highly recommending GAF to others.
GAF's Timberline shingle is not only North America's best-selling fiberglass-asphalt shingle, it is also rated #1 in shingle quality by home builders in 9 out of the last 11 years. Timberline shingles are so good because they have the full backing of a major roofing manufacturer, whose innovative GAF Lifetime Roofing System provides some of the strongest warranties in roofing.
Timberline Shingles
The Timberline series is available in six different configurations:
Ultra HD®
American Harvest®
HD®
Natural Shadow®
Cool Series®
Armorshield™ II
Ultra HD® shingles provide the most definition, with a deep-cut, shake appearance but with the benefits of fiberglass-asphalt shingles. Cool Series shingles help lower your home's cooling costs. Every GAF shingle configuration has a benefit, and within each line, you get to choose from many beautiful colors.
Fiberglass-Asphalt Shingles
The most economical to install of all roofing materials, fiberglass-asphalt shingles install quickly. They are manufactured, so crews can depend on consistent quality, composition and color across squares (the typical unit of sale for shingles). A GAF shingle could come from one of 14 modern plants scattered across the United States, employing thousands of American workers from Massachusetts to California.
GAF's high-tech plants turn out Timberline and other GAF shingles using asphalt, glass fibers, and mineral granules. One plant is right here in Savannah! A fiberglass-asphalt shingle combines asphalt's water resistance with the strength of randomly oriented glass fibers, making for one tough, long-lasting GAF shingle. Topped by mineral granules, GAF shingles have industry-topping warranties, like the Golden Pledge warranty that lasts 50 years.
To learn more about the many benefits of a GAF shingle, contact Tri County Roofing today. We will be happy to go over GAF's warranties, product lines and shingle colors with you.
[button link="https://www.tricoexteriors.com/blog/roofing/homeowner-quick-facts-the-popular-gaf-timberline-shingles/" target="self" color="#b20000″ text="light"]Read: The Popular GAF Timberline Shingles[/button]