Along the South Carolina coast, you know how vulnerable your roof is to the ever-changing weather. Thunderstorms, lightning, high-winds, tropical storms and even the occasional hurricane can take a huge toll on your most valuable asset, your home. Water and wind damage can place your home?s interior at high risk.
However when it comes to your roof, there is one premier roofing company in the Savannah area you can depend upon for a quality roof replacement, and that is Tri County Roofing and Siding. We are a family owned business committed to creating a long-term relationship with you for all your roofing needs.
Using the Shingle Roof Decider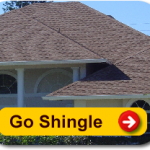 Tri County Roofing offers you the opportunity to use our Shingle Roof Designer when planning a roof replacement for your Savannah area home.
Starter Strip – The first step is with the starter strip. We offer two types, with one being particularly resistant to high winds.
Shingles ? We offer the choice of the classic 3-tab Royal Sovereign shingle design, the Timberline High Definition shingle that can give your roof a 3-D look, or you can choose from several styles in our Designer Series: Camelot II, Country Mansion II, or Grand slate II.
Hip & Ridge Accessories ? We have a couple choices for Hip and ridge. You can choose a basic package with materials that meet the minimum code for 70 mph winds, or select the Seal-A-Ridge High Wind Resistant or Timbertex High Profile hip and ridge accessories and your entire roof will be covered with the 130 mph wind warranty. Considering the storms in our area, the later is almost considered a must!
Warranty – The Shingle Decider also allows you to choose from a variety of warranties.
Once you have selected all the roofing options, review your choices and click submit. A member of our friendly Tri County staff will contact you promptly about your inquiry.
Whatever roof replacement you choose, at Tri County Roofing and Siding you can certainly expect that we will do more than just simply slap a new roof on your Savannah area home. When it comes to roof replacement, we offer the highest quality standards of workmanship and use only the best roofing materials available on the market today.
Tri County Roofing is a GAF Master Elite certified contractor and has proudly served the Savannah area since 1973. For more information about roof replacement and the Shingle Roof Decider, contact Tri County Roofing and Siding today.