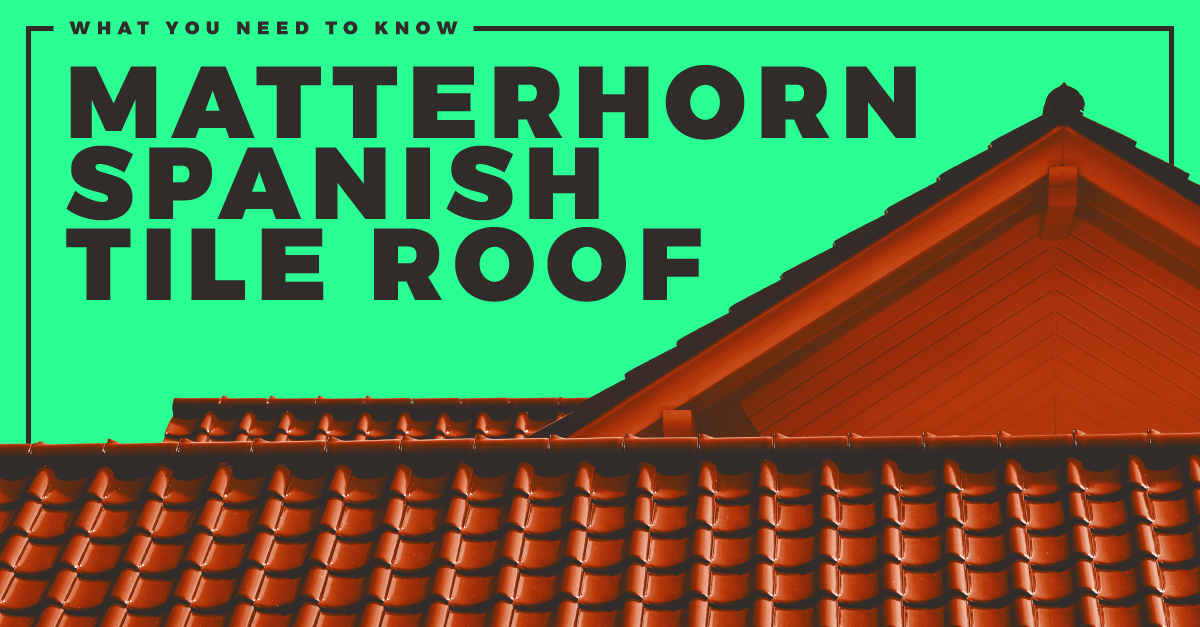 Metal roofing is steadily gaining popularity with homeowners who want an attractive, durable new roof that requires little maintenance. If you want to reap the benefits of metal roofing, but you're drawn to the charming, old-world appearance of a clay tile roof, choosing Matterhorn Spanish tile roofing from industry-leading CertainTeed is the way to have both.
Matterhorn Spanish Tile – Timeless Appeal Crafted in Resilient Steel
The warm-hued curves of a clay tile roof look simply stunning atop any style of home, from Mediterranean to traditional. Matterhorn's Spanish tile roofing beautifully replicates the distinctive character of clay tile, but because it's crafted from resilient steel, it weighs a lot less, is much more durable and requires less maintenance.
What Makes Matterhorn Metal Tile Exceptional?
Matterhorn Spanish tile provides the longevity and performance of high-quality metal roofing, and it's specifically designed for superior strength and resilience. The multi-layer panels consist of a 28-gauge carbon alloy steel core protected by an anti-corrosive zinc phosphate coating and topped with a PVDF tri-pigment finish. This combination gives Matterhorn metal roofing simply outstanding characteristics including:
Class A fire resistance. When the recommended synthetic underlayment is used, Matterhorn metal roofing has a Class A fire rating.
Class 4 impact resistance. The product is rated as Class 4, which is the highest possible grade for impact/hail resistance.
Hurricane-proof invisible fastening system. Matterhorn metal panels feature special hidden tongue-and-groove snap lock fasteners, which keeps the finished roof watertight and provides a 130-mph wind resistance rating.
Cool Roof/Energy Star rating. The cool roof technology of the PVDF paint system boosts the metal's energy efficiency, and the specialized coating enhances the roof's solar reflectivity, which can significantly reduce your household cooling costs.
Long-lasting beauty. Matterhorn Spanish tile roofing is available in eight exquisite colors that evoke the natural shades found in clay tile, and its durable finish provides superior fade resistance.
Excellent warranty coverage. CertainTeed backs their Matterhorn metal roofing line with one of the best warranties in the industry: limited lifetime coverage against defects, peeling/chipping/cracking/flaking, chalking and fading, as well as impact and wind damage.
Light weight. Per square, Matterhorn metal roofing weighs 600-800 pounds less than clay tile.
Eco-friendly material. Your metal tile roof will be fully recyclable at the end of its 50+-year lifespan.
To learn more about the advantages of installing a Matterhorn metal tile roof on your Charleston-area home, contact us at Tri County Roofing!
Read: 4 Warning Signs that It's Time to Replace Your Roof