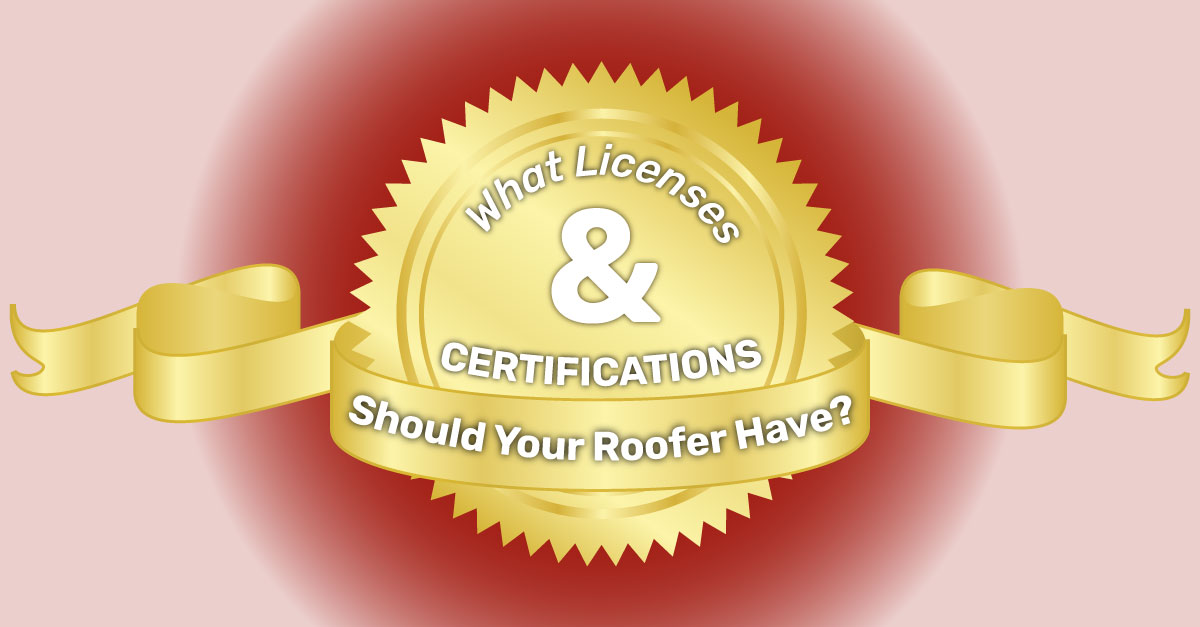 Hiring a licensed and certified roofer protects you from unethical practices and inferior workmanship. When looking for a roofing contractor, you can easily fall victim to unscrupulous, unlicensed handymen luring homeowners with a much lower price than licensed roofing contractors would quote.
However, when it comes to roofing services, you always get what you pay for. When you hire a low-cost, unlicensed roofing contractor, you are losing out on many of the benefits which come with choosing a licensed and certified roofing contractor, such as quality workmanship, security, extended warranties, and insurance coverage for accidents or damages.
Types of Licenses and Certifications a Roofer Should Have
Roofing contractors in Charleston, SC, who are categorized under Residential Specialty Contractor, don't require a state license to work in South Carolina. However, they must be registered with the South Carolina Department of Labor, Licensing and Regulation.
Insurance Coverage
Your residential roofing company should carry at minimum two kinds of insurance policies: workers' compensation insurance and liability insurance.
Liability insurance covers any damage caused to your property while the roofing project is ongoing. It absolves you from any responsibility and the need to cough out personal funds should anything go wrong over the course of the project. If your roofer says they carry liability insurance, ask to see the certificate to verify if the coverage is still valid.
A workers' comp insurance, on the other hand, protects the roofer's workers from injuries which may occur in the course of the project. You'll be protected from lawsuits if a worker gets injured while working on your property.
Manufacturer Certifications
Although roofers don't need to be manufacturer-certified to execute roofing work, finding a roofing contractor who is certified by the leading brands is certainly a big plus. Certified roofers often undergo advanced training with the manufacturer, making them more familiar with the installation and repair process of your specific roofing system.
Hiring a roofing company who is certified by CertainTeed, GAF, or Owens Corning can guarantee you superior product quality, top-notch workmanship, and strong warranties.
Benefits of Hiring a Licensed and Certified Roofing Contractor
Hiring a licensed and certified roofing company comes with numerous benefits, including:
Licensed Roofers Know the Industry
Working with a licensed roofing contractor is an indication they have proven knowledge in the latest and best practices in roofing installation, maintenance, repair, and replacement.
This means your roofer will get the work done right the first time, something you can't say about unlicensed roofers.
Licensed Roofers Don't Ask for Illegal Payments
Licensed roofers will commence roofing work once you provide about 10 percent of the project cost. This requirement is usually set by state licensing boards, and licensed roofers agree to abide by it. A licensed roofer will not ask for all the money upfront and later on fail to complete the work or do a shoddy job like dishonest, unlicensed individuals often do.
Licensed Roofers Offer an Official Contract
As a consumer, having a written contract protects you in several ways. Licensed roofers always provide a written contract highlighting the scope of work, the materials required, and the timeline for the roofing work. This makes it easy to hold the contractor accountable by delivering their services as promised.
The contract may also include a clause referred to as a "mechanic's lien" to protect you from being responsible for the contractor's unpaid bills to suppliers or subcontractors should they fail to honor their word.
Licensed Roofers Carry Insurance
Licensed roofers carry basic insurance coverage such as liability insurance and workers' compensation insurance. This protects you against any liability for costs related to workers damaging your property or getting injured on the job.
Licensed Roofers Offer Solid Warranties
Last but not least, a licensed roofer acts in an ethical manner and will always stand behind their work. If by any chance your roof develops an issue soon after the installation, your roofer will come back to fix. Licensed roofers usually back their work with a workmanship warranty which could span as long as 15-25 years depending on the roofing material.
Risks of Hiring Unlicensed, Uncertified Roofer
There are many risks in hiring unqualified roofing companies, including poor-quality installation and zero coverage for potential accidents or damages which could occur during the roofing process. Even if you hire an unlicensed roofer at a fraction of the cost of hiring a licensed and certified roofing contractor, it won't change how the lack of insurance and certification is a huge risk.
Some homeowners have ended up shouldering high medical bills of well-meaning handymen who got injured mid-project. Some unlicensed contractors also settle for substandard products since they don't have the skills, training, or certification required to install roofing materials from top brands.
Tri County Roofing is Proud to Be Licensed and Certified!
If you're looking for a licensed and certified roofing contractor in Charleston, SC, look no further than Tri County Roofing. We are highly experienced in installing, repairing, and replacing different residential roofing systems, including asphalt shingles. Contact us today for a free estimate on your roofing job.