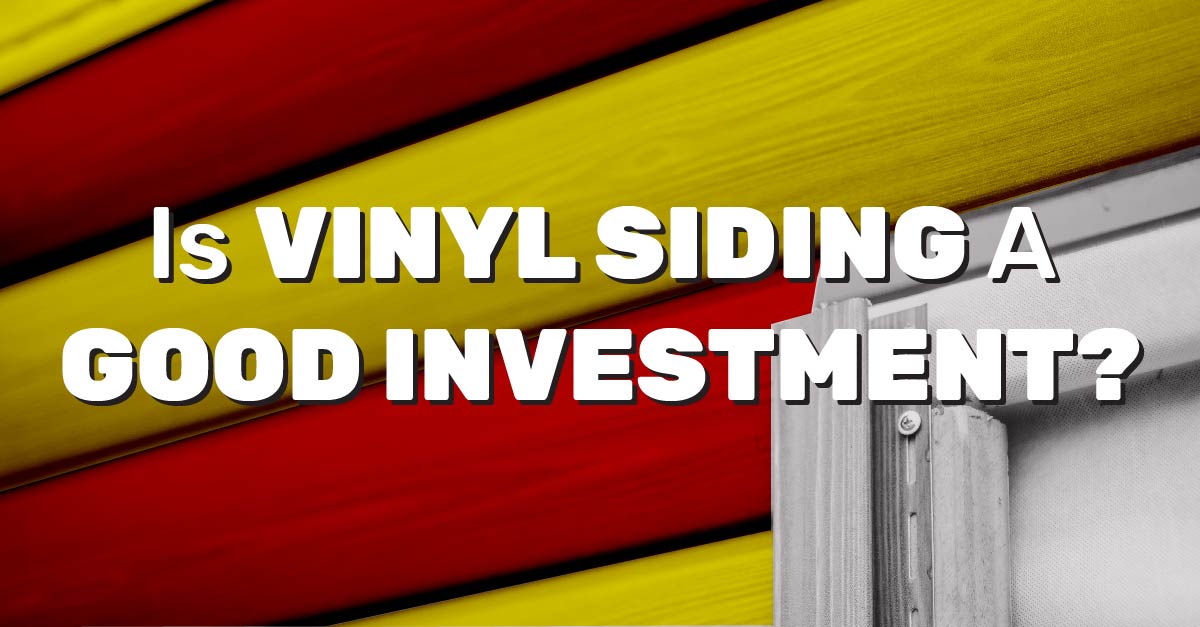 Vinyl siding has come a long way since it was first introduced. With all these improvements, vinyl siding has become a great option to use on your home. However, you need to weigh the strong points and drawbacks to determine if vinyl siding is a good investment for you.
Pros of Vinyl Siding
1. Cheaper than Other Siding Types
One of the main reasons why vinyl siding is a popular choice for many homeowners is its cost-effectiveness. Compared to other siding options, vinyl is nearly the cheapest option on the market. This is a big plus if you're looking to improve your home on a budget.
Plus, with its easy installation, low maintenance, energy efficiency, and durability, you will get more for your money in the long-term.
2. Made Whatever Color You Want
Vinyl siding is available in just about every texture, color, and profile imaginable. Unlike other materials that are painted, vinyl siding has color baked-in. The color runs all the way through, which means it cannot be worn away.
Vinyl siding can be made to mimic most other siding styles, which gives you total control over the style you want for your home.
3. Low Maintenance
Since there's no paint to peel, there's no worrying about climbing ladders, priming, or painting the siding to keep up with the appearance. Its slick surface means cobwebs, dust, and dirt can be easily cleaned with a garden hose every year or so.
4. Cuts Heating and Cooling Costs
Installing insulated vinyl siding can save you money on utilities. This type of siding prevents heat loss between your exterior wall studs through a process called "thermal bridging". Heat can escape when it comes into contact with your home's siding, but insulated vinyl siding adds a protective blanket preventing heat from seeping out of your house in winter and seeping in during the summer.
Cons of Vinyl Siding
1. May Not be as Durable
Vinyl will crack or dent from a severe storm, flying debris, rocks, balls, hail, or even a power washer. When vinyl gets cold enough in the winter, it becomes too fragile and any impact against it can cause it to crack or break.
If a panel cracks or becomes dented, it will need to be replaced. This can be difficult because other sections need to be removed to access the damaged piece.
2. Could Hurt the Value of Your Home
Vinyl siding is not the best option for some homes because it can lower the value. The siding tends to flatten a home's exterior and may obscure special molding and trim. Many home buyers may perceive vinyl as inferior or a cover-up for possible problems, which may result in lower offers when you put your home on the market.
3. Not Good for the Environment
Vinyl siding is primarily made of polyvinyl chloride (PVC) resin, which is not considered a green or sustainable material. The manufacturing process requires vast amounts of electricity and produces carcinogens and greenhouse gases. Recycling vinyl is difficult and expensive. In fact, very few recycling centers will accept it, so it will end up in a landfill.
When having your siding installed, work with a trustworthy, reputable contractor who is properly trained and certified. If you're looking for a contractor in Charleston, be sure to contact Tri County Roofing & Siding for the best siding and other home exteriors services in the area!