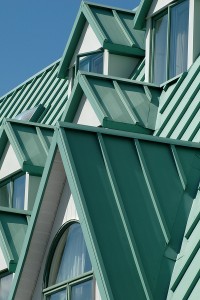 If you find yourself needing to replace the roof on your Charleston home, then there are some serious considerations to make. The roof, after all, is your first barrier of defense against everything from rain and wind to debris and more. Not only do you have to consider what type of roof replacement you want, you also need to find a reputable roofing contractor that will install it properly so that it will last.
Tri County Roofing & Siding has earned a strong reputation in the Charleston area for our dedicated service and our quality workmanship ever since we were established in 1973. As a roofing leader in this area, we highly recommend that you consider a metal roof replacement.
The Advantages of Choosing a Metal Roof Replacement
Choosing metal over any other roofing material will provide your Charleston home with numerous advantages. The following are just a few of the advantages that tend to stand out:
Durable – Unlike many other materials, such as wood, metal won?t break, burn, crack, rot or split ? making it much more durable than other options.
Lightweight – Metal roofs tend to be much more lightweight than other roofing materials, such as asphalt. This leads to less stress on the structure of your roof, lending to its durability and ease of maintenance.
Environmentally Friendly – Metal is actually a more environmental-friendly option than other roofing materials. First of all, metal roofs tend to be manufactured using 50 percent recycled material. They are also 100 percent recyclable.
Energy Efficient – A Metal roof is more energy efficient than other options because metal roofs help to reflect sunlight during the summer months, thereby helping to reduce the amount of heat that the house observes. During the winters, the metal roofing will help prevent heat from escaping the home.
Many Styles and Colors – There are a surprising amount of styles and colors to choose from to give your home a distinct and unique look.
Types of Metal Roofs
There are two main types of metal roofs to choose from at Tri County Roofing and Siding. They include:
5V Metal Roof ? This type is made up of individual panels that are crafted from steel and attached using exposed fasteners.
Standing Seam ? Consisting of individual panels, this type is made from aluminum alloy attached with hidden fasteners.
If you are in need of a roof replacement, then Tri County Roofing & Siding strongly suggests that you consider a metal roof. There are so many advantages you can't go wrong with a roof made from metal. Contact Tri County Roofing for your new roof replacement.