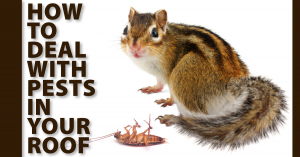 If your roof is old and starting to fail, gaps can be made for South Carolina's squirrels, raccoons, mice, insects, and other pests to enter into your home easily. Nobody wants rodents and bugs crawling around in their attics and their walls. That being said, not every homeowner knows the proper way to go about getting rid of these unwanted creatures that have taken over their home.
Noises from Above
The first step is to identify what is living in your attic.
If you hear scurrying across the floors up above, the culprits are probably squirrels or mice.
High pitched vocals coming from your attic and the sound of flapping wings can tell you that you may have pigeons or other birds residing with you. Birds can bring health risks with them and also cause terrible messes.
Insects can be spotted dead in windowsills and cavities in the floor.
Extermination
Now that you have identified the pests that are living above you, it is time to call a pest exterminator. The exterminator may find more rodents or insects that have been living with you that you didn't know about or couldn't identify correctly.
Most exterminators use environmentally friendly products that are safe for your family. Don't be afraid to hire an exterminator to get rid of the pest problem for you, because your family, your home, and your roof will thank you for it.
Inspection
Having your roof inspected regularly can nearly eliminate the chance of pests coming into your home through the roof. After an inspection is finished, the contractor will let you know what kind of shape your roof is in and what should be done about it.
During the inspection, take note of the type of damage that has been caused because of these critters. If the gaps in your roof are big enough, you may need a full roof replacement, however, roof repairs can usually take care of the issues.
Repair
Repairing your roof after you have had pests living in your attic is one of the most important parts of getting rid of these pests. If you get rid of the pests, but don't fix the roof, the pests will come right back. Make sure your roof is properly repaired by your contractor and all gaps are closed so many more animals can get back in.
Call your local roofing contractor, Tri County Roofing, and discuss the repairs that need to be done to stop pests from living with you any longer.
[button link="https://www.tricoexteriors.com/blog/roofing/home-deserves-roof-inspection/" target="self" color="#b20000″ text="light"]Read: Why You Deserve a 40 Point Roof Inspection[/button]