While vinyl is the most versatile and maintenance-free siding material currently available, the most common alternatives found in our Savannah area may all require repainting at some point in their service life. Following are some general ideas for repainting:
Aluminum
As with all repainting projects, good preparation is vital. For aluminum:
Remove algae, dirt, and lichen using proprietary cleaners. Attach a nylon scrubbing pad to a pole sander and spray on your detergent, or invest in a stiff-bristle RV washing brush with an adjustable handle.
Rinse, rinse, rinse until all detergent residue and loosened contaminants have been washed away.
Sand lightly, prime (using an oil-based primer, even over acrylic paint), then sand again.
Use acrylic latex paint for the top coat; low-luster or satin more closely replicates original factory finishes.
Clapboard
Follow the preparation instructions for aluminum (but don't sand "grained" surfaces). When it comes to priming and painting clapboard:
Work from side to side, minimizing lap marks by painting only four to five boards across the house until you finish.
Begin work where separate boards overlap; this reduces the chance of a ?dry line? marring the finished look.
Force primer and paint upward, under the laps, using the narrow edge of your brush.
Flip your brush to the wider face to coat the boards? surfaces.
Fiber-Cement
Fiber-cement, often referred to by the semi-generic term ?hardiplank,? is extremely common around Savannah. Formulated from sand, cement, and cellulose fibers, it is often sold pre-painted or stained.
Prep as before, paying particular attention to the eradication of colonies of mildew – especially important in Savannah's often humid environment – to which this product is prone.
If your siding is pre-primed as most fiber-cement board is, then further priming is not necessary.
Caulk where the fiber-cement transitions into trim. Quick-drying, flexible, paintable caulks – ensure it?s paintable! – are available, designed specially to bond to fiber-cement and trim.
Using acrylic paint, load your brush lightly then work from top to bottom, following any grain pattern.
Wood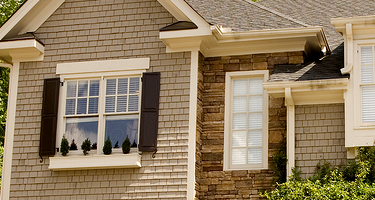 Wood siding is available in three primary forms: lap boards and shingles which are most often made from red cedar, and vertical panel wood siding which can be found in cypress, fir, oak, pine, redwood and, of course, cedar. Repaint using a good quality exterior house paint:
Prepare the substrate fastidiously, so it is clean, dry, and free from grease and oils.
Scrape away all flaking or loose paint.
Use a primer recommended by the paint manufacturer.
Following these recommendations for repainting will help to extend your siding's lifetime and bring nice curb appeal back to your home. At Tri County Roofing, we would be happy to help you with any more information you may need about repainting.
When you are in the market for new siding for your Savannah home, contact Tri County Roofing & Siding, and learn about all the different choices in we have.
[button url="https://www.tricoexteriors.com/exterior/siding/" color="red"]
SIDING
[/button]