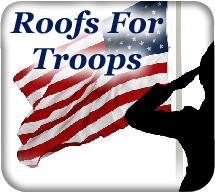 Of all the recognition Tri County Roofing & Siding receives, our work with the GAF Roofs for Troops ranks closest to our hearts. We are proud to be recognized by GAF and Habitat for Humanity as a "Community Contractor." We are honored to hold the Installation Excellence Award, the Consumer Protection Award, and to be among the elite roofing contractors to earn GAF's Presidents Club Award. However, when we are privileged to install a GAF Lifetime Roofing System for an active duty service person, a veteran or a retired member of our nation's military, we feel a special sense of accomplishment. 
GAF Roofs for Troops
GAF recognizes the sacrifices made by military personnel and their families. The commitment to our nation's security deserves notice. GAF is happy to give back, and we at Tri County Roofing & Siding are also happy to help out a fellow service member in the Savannah area.
GAF is once again offering a special thank-you to service members in 2015. All year, when a GAF Master Elite roofer, such as Tri County Roofing & Siding, puts down a quality GAF shingle roof and three GAF roofing accessories on any service member's home, GAF provides the service member with a $250 rebate.
Veterans
Tri County Roofing & Siding is a veteran-owned company. By participating in GAF's Roofs for Troops, we hope we can help fellow military members, their families, and our whole community. Making service members' roofs secure seems a small thank-you for the security our troops offer us as a nation.
Spread the Word
If you know a veteran, active service member or retiree in the Savannah area, let them know about GAF Roofs for Troops. Hire Tri County Roofing & Siding to put down a high-quality GAF Lifetime Roofing System and incorporate at least three of GAF's roofing accessories:
Cobra attic ventilation
Deck Armor roof deck protection
Weather Watch leak barrier
Ridge cap shingles
Starter strip shingles
After filling out a rebate form and sending it in with some verification paperwork under the GAF Roofs for Troops program, the military member receives a rebate check from GAF for $250 – no strings attached.
Here to Help
Tri County Roofing & Siding can provide a contractor's invoice showing when we installed your quality GAF Lifetime shingles, completed the Lifetime Roofing System, and put on the needed accessories. More information is available online, or you can contact us to assist you.
[button link="https://www.tricoexteriors.com/coupons/roofs-troops/" target="self" color="#b20000″ text="light"]Roofs for Troops[/button]