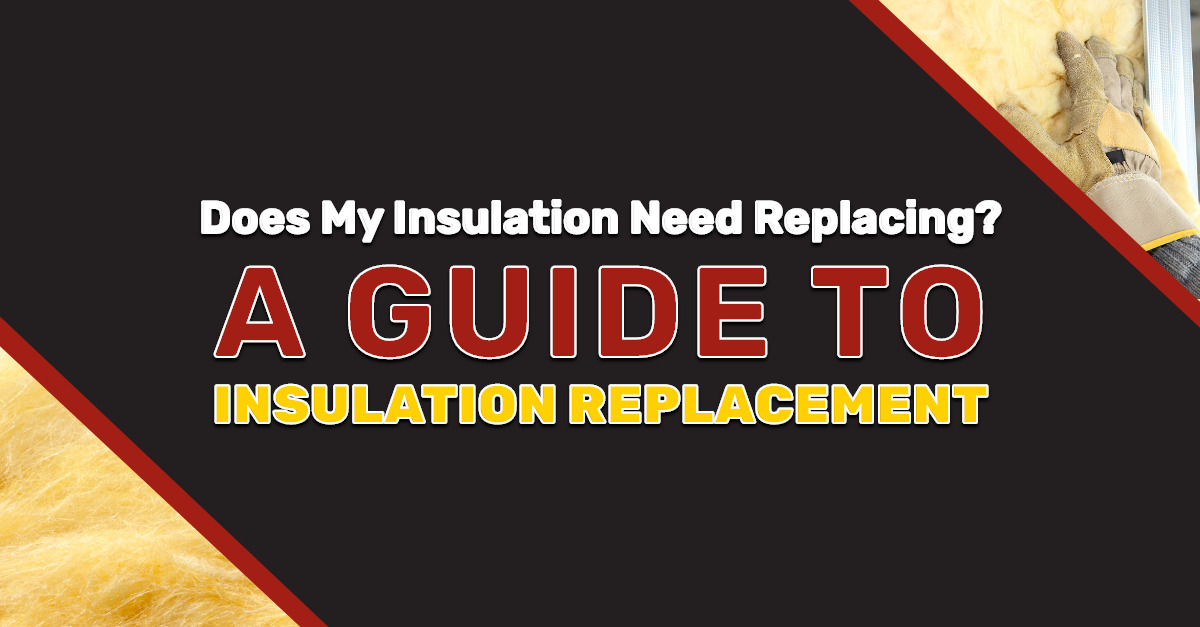 Insulation in your home helps prevent heat loss during winter and heat gain during summer, which lowers your energy bills. Your home also feels more comfortable overall thanks to insulation. But are insulation replacements really necessary? The answer is: yes. While insulation can last for many years, you'll need to replace it eventually. What are the signs that you need an insulation replacement? Knowing what to look for can help ensure that you have your insulation replaced when needed.
Purpose of Insulation
Insulation helps keep warm air in your home when it's cold out. This means your furnace won't run as much to heat your home. When it's hot outside, having a well-insulated home keeps the interior cooler. The heat from outside won't seep into your home, forcing your air conditioning to keep running. This results in lower energy usage and energy bills.
When you have insulation that is in good condition, your home won't feel drafty. Insulation helps you maintain a comfortable home interior throughout the year, no matter how hot or cold it is outside.
Signs of Worn or Damaged Insulation
How do you know if your insulation should be replaced? Although it lasts for years, insulation that is damaged or worn can cause problems for you as a homeowner. If you experience any of the following signs, you should look into having your insulation replaced.
Uneven Temperatures
Does your home have some areas that feel colder or warmer than others? When insulation is in good condition and you have enough of it, your home interior should be evenly heated or cooled. Uneven interior temperatures can occur when insulation becomes worn over the years.
Drafty Rooms
Insulation in your attic should prevent any rooms from feeling drafty. When you have one or more rooms that have a draft, you might need to have your insulation replaced.
High Energy Bills
Using your heating or air conditioning system will bump your energy bills up a bit. However, you shouldn't experience extreme changes in your energy bills. If your bills have been much higher than usual, you should have your insulation inspected to see if it's time for an insulation replacement. A poorly insulated home can cause your heating or air conditioning to run more often.
Pest Problems
Insulation can help prevent pests from getting into your home. If you have mice, squirrels, or other critters in your attic, you might need new insulation.
Physical Signs of Damage in Insulation
If you notice that the insulation in your attic looks worn, thin, or wet, it's time to have it replaced.
How Often to Have an Insulation Replacement
You should replace your insulation when it has become damaged or worn. How soon this occurs can vary based on the type of insulation you have. Some types of insulation can remain in good condition longer than others. For example, fiberglass insulation can last between 80 to 100 years when it's maintained, while cellulose insulation might only last up to 30 years.
Keep in mind that even insulation with a long lifespan can become damaged, wet, or worn over the years. You should have your insulation checked if it's roughly 15 to 20 years old, especially if you experience any signs that it might need to be replaced. If you're not sure how old your insulation is, you should plan to have it checked to see if it's time to replace it.
Who to Call for Insulation Replacement
Replacing insulation requires the right knowledge in order to determine how much is needed, where it should be placed, and which type to use. The experts at Trico Exteriors can ensure that your home has the best kind of insulation for a comfortable home interior and less energy usage. Our team can also determine how much insulation your home needs and where it needs to go.
At Trico Exteriors, we offer blown-in fiberglass insulation. This type of insulation has a long lifespan and can improve your home's energy efficiency. The CertainTeed TrueComfort Blow in Fiberglass Insulation we use can help cut down on your home's energy costs for both heating and cooling.
This insulation protects against heat loss in winter, heat gain in summer, pests, moisture damage, and more. Other benefits include being noncombustible, odor-free, and resistant to decay and rot. These qualities help ensure that your new insulation will last for many years before it needs to be replaced.
When you call Trico Exteriors, you're getting professionals who have been providing roofing services, including insulation, for homeowners in Charleston since 1973. You can count on us for high-quality service.
If you need to replace the insulation in your Charleston home, please contact Trico Exteriors. We can provide you with additional information on blown-in fiberglass insulation for your home, so you can enjoy the benefits of greater energy efficiency.