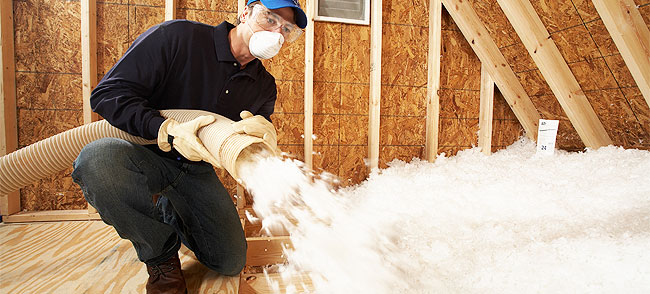 Many homeowners in the southern states wonder whether insulation is even necessary in their homes.  Although, the walls, attic, and windows of warmer climates are not subject to the frigid temperatures of the North, you may be surprised at the amount of money that can be saved with a few basic insulation projects….
The Benefits of Blown in Insulation
Walls: Some newly constructed walls are installed with batt insulation, while others are built first, then later filled with blown in insulation. The latter option is also available if your walls are missing key sections of insulation. Keep in mind that insulation will have the greatest impact when installed on exterior walls that face the outdoors. In the summertime especially, wall insulation will also help you save money. Insulation acts as a thermal barrier, sealing in cool air and protecting you from the hot, muggy days all too common in the American South.  The savings? About $150 to $250 per year when compared with un-insulated walls.
Attic: The U.S. Department of Energy advises that homeowners in the Hilton Head – Savannah area use R-38 rated insulation for their attics. Attic insulation is particularly important for saving energy in winter: as heat rises, it seeks an escape through leaks in your attic. We recommend CertainTeed's blown in Fiberglass insulation for optimal effects. Batt insulation can work well for some attics, also, although it is much more difficult to install thoroughly. A quality insulation will increase the energy efficiency of your attic and save you as much as 15 to 25 percent off your energy bill without expensive renovations.
Windows and Doors: Leaks can also develop around windows and doors, especially older windows and doors where the weatherstripping – those rubber and felt barriers around the edges of doors and windows – has worn away. This creates a situation that saps heat from your house even when your doors and windows are closed. If your weatherstripping is letting air in (or if you are lacking this important feature) we can help you find the right solutions that will block those leaks. How much of a savings will this be? Simply adding weatherstripping can save you as much as 10 to 15 percent on your energy bills!
We Can Help
For insulation to show energy efficiency and optimal results, each area of your home should be checked.  Old types of insulation tend to lose their R-value over time and will need to be replaced (one of the reasons that we recommend CertainTeed, for its longevity).  As the house settles through time and use, weatherstripping should be updated and improved.
Of course, at Tri County Roofing and Siding, our contractors are trained and prepared to answer your questions and help you with your home's insulating needs.
If you have any more questions about insulation and how much you can save, let us know! We are always willing to help!
Insulation