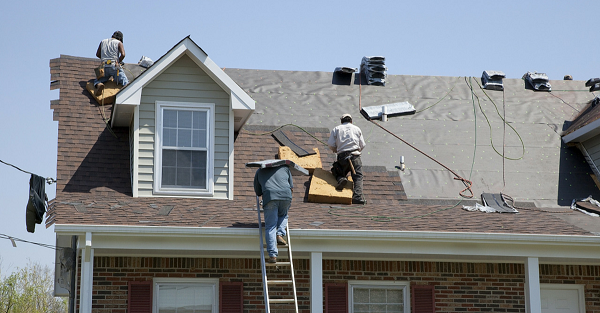 Here is a basic, chronological list of the three main stages of a roof repair, courtesy of Savannah's trustworthy roofers at Tri County Roofing & Siding:
Stage 1: PRE-INSTALLATION
When beginning a re-roofing process, homeowners are encouraged to interview multiple contractors.  When receiving estimates, the paperwork should specify each part of the process, giving both cost and time estimates.
Check credentials! Licenses, bonding and insurance are all obvious musts, but also ask whether the company is a certified by a particular manufacturer. (Tri County, for example, is a GAF Master Elite Contractor (GAF is America's largest manufacturer of commercial and residential roofing), and a CertainTeed SELECT ShingleMaster). Also check Angie's List reviews.
Learn what, if anything, you need to do to prepare your property for the job, such as parking vehicles away from certain areas.
Stage 2: THE JOB ITSELF
The roofing crew should begin their onsite work by protecting vulnerable items around your home, such as landscaping, as well as bring in waste-disposal equipment. Next, the existing roof will be torn off and prepared for a re-cover. On larger projects, or if weather is unpredictable, this may be done one section at a time. An area clean-up should be carried out at the end of every workday.
The roofing substructures will be inspected next, to ensure the roof decking and framing does not leak, and is perfectly solid and flat. Any issues discovered should be discussed, then rectified with the homeowner's approval.
Next, critical waterproofing components will be fitted, including metal eave and rake parts, then the underlayment.
Lastly, the exterior surface is installed. In the Charleston/Mt Pleasant/Summerville region, this is typically either shingles or metal panels. No matter what materials are used, the field (flat area) cladding must be finished with ridge caps, flashing around chimneys and other penetrations, and any other seals required to create a fully water-tight finish.
Stage 3: CLEANUP
Your trustworthy roofers will conduct a final, thorough clean-up.  Your home will look like no work was ever done…until neighbors look up at your new roof.
IN CONCLUSION
To ask further questions, or schedule an in-home consultation, contact your Savannah trusted roofers,  Tri County Roofing & Siding today!
[button link="www.tricoexteriors.com/roof-replacement/shingle-roof-replacement-2/" target="self" color="#b20000″ text="light"]Shingle Roof Replacement[/button]