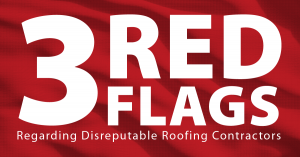 Your roof is a complex system that provides you shelter and safety. When you need roofing services, whether a routine repair or a major roof replacement, you shouldn't just trust anyone that comes knocking on your door or calling you on the phone. When choosing between roofing contractors, take your time, do your homework and be aware of these red flags regarding disreputable roofers!
Storm Chasers
"Storm chasers" are disreputable contractors and roofers (or any individual claiming to be one) that come knocking on your door following strong, damaging storms. People of this sort prey on homeowners who are vulnerable following storms and may be facing tough financial decisions regarding roof repairs.
Be wary of anyone knocking on your door claiming to be a contractor and offering unbeatable deals with leftover materials from a job down the road. Even if you think your roof only needs a simple repair, people of this ilk aren't to be trusted at your home. If your gut tells you something is amiss, listen to it and close the door!
Contingency Contracts
When you see shingles torn away from your roof or you have some other roofing emergency, you may be in a panicked hurry looking for roofing contractors. A contingency contract is actually quite common and is perfectly fine when you know and understand the contingencies and all contract details.
However, disreputable contractors may pressure you to sign a contingency contract loaded with service and agreement terms unfavorable to you hidden in the fine print. Be vigilant for contractors offering free emergency repairs, an on-the-spot roof inspection and/or free and fast roof tarping if you just sign on the dotted line.
Lack of Credentials
To avoid a roofing scam, do your homework and only work with roof contractors that bring bona-fide credentials to the negotiating table. For example, if a company or individual asks you to pull permits, that's a red flag that you aren't dealing with a real and reputable contractor.
A reputable contractor will have a fixed brick-and-mortar location, a website, references and all the appropriate licensing and insurance. Another quick source for you to check is your local Better Business Bureau.
At Tri County Roofing, we understand that you have questions and concerns regarding roofing contractors and roofing construction to your home. We do our best to help you understand the services that benefit you through clear communication, trust and education.
[button link="https://www.tricoexteriors.com/blog/roofing/how-to-choose-a-highly-qualified-roof-repair-company/" target="self" color="#b20000″ text="light"]How to Choose a Qualified Roofer[/button]