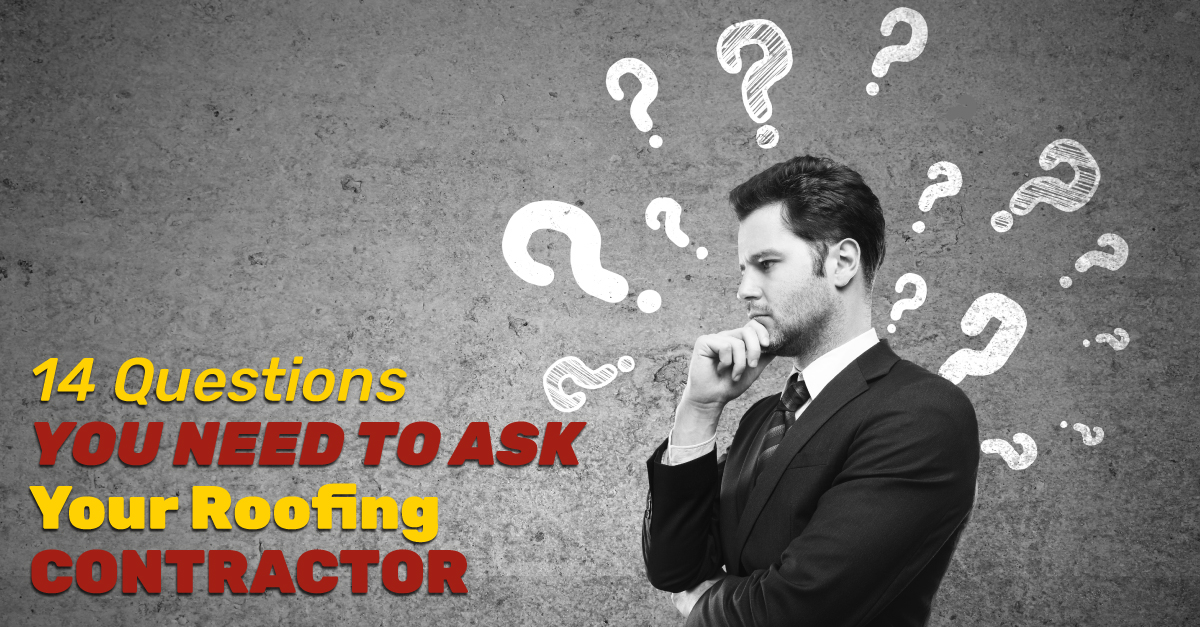 Hiring a good roofing contractor is a bit like speed dating. You absolutely have to ask a lot of questions before committing to one. Never sign an estimate, contract, or invoice until you know all about your roofing contractor.  Ask these 14 questions to ensure a roofer is right for you.
#1: Are You Local to Me?
Only work with a roofer able to provide a local, physical address. Where would you go if your roofer was from out of town? Who would you turn to for problems a month after installation if you had no local address?
#2: How Long Have You Been in Business?
You do not want to be the surgeon's first appendectomy. You do not want to be the roofer's first roof. Go with a local roofer with years of experience. That way, if something unusual turns up during roofing work, you can trust them to handle it.
#3: Who, Exactly, Will be Installing My Roof?
Some roofing contractors round up day crews by driving slowly through the parking lots of home improvement stores. Nobody knows anybody on the crew. The guy throwing shingles down on your home could have been building a garden retaining wall yesterday. Is that who you want? Ask: are the crew members employees or subcontractors?
#4: What Training and Experience Does the Crew Have?
All major roofing material manufacturers provide factory training in installation techniques, handling the materials, and safe working methods. Have the crew members been trained by the manufacturer of your roofing?
#5: Which Previous Customers May I Talk To?
A roofer must supply references. If you are getting fiberglass-asphalt shingles in a designer grade, talk to the last homeowner to get the same type of shingle. If metal panels are going on your roof, talk to a homeowner with new metal panels installed by the same roofer.
#6: When Would You Be Able to Schedule My Job?
A low installation price is no good if it is for two summers from today. Be sure your roof fits into the roofer's installation schedule within a reasonable time. Avoid winter work, but also avoid excuses for being 13th in line for "sometime in Julember."
#7: How Long Will The Work Take?
Roof repair work is typically a one-day job. Roof removal and new installation can take anywhere from two to five days. If a contractor says the job will take upwards of seven days, you can reasonably ask why, or move on to another contractor.
#8: Do You Have Proper Licensing and Certifications?
Your roof protects just about everything else you own. You have a right to insist on getting answers to questions about state licensing, manufacturers' certifications, workers compensation protection, and liability insurance for the work crew. Not only should you get answers, you should see the documents.
#9: Is a Building Permit Required?
Not every roof project needs a building permit. Local ordinances vary, but you should expect the roofer to arrange for permitting. Be very clear and ask, "Will you be pulling the building permit?" Listen for hemming and hawing; if you hear it, go to your next prospective contractor and ask the same question. Get a better answer.
#10: What Steps Do You Take for Crew Safety?
We do not want anyone hurt on your property, not least because of liability issues. Assume every worker on your roof is bringing home the bacon to a family. Crew safety can never be a shortcut. Expect to see fall arrest equipment and personal protection equipment on site and in use.
#11: What Steps Do You Take to Ensure My Family's Safety?
A roofing nail on a lawn can pierce a shoe. What will your contractor do to protect your family members and your home? The right answers include tarps over landscaping, a magnetic broom to sweep the lawn, and constant cleanup during the job.
#12: Do You Provide a Written Estimate?
Avoid the contractor with a preference for napkin calculations and a spoken estimate. Get it in writing. A legitimate price is good today and 10 days from today, in writing.
#13: Do You Offer a Workmanship Warranty?
Manufacturers of roofing materials routinely offer roofing warranties on their materials, not on installation. Some better contractors can earn installation warranties from the manufacturers. The best roofers offer their own workmanship warranties. These protect you against weak spots in installation: a missed drip edge, insufficient flashing, or a poorly installed rubber boot.
#14: Will You Remove and Dispose of My Old Roof?
Cartage and disposal fees should be part of the written estimate. Otherwise, you could be stuck with a heap in your yard.
To get all the right answers to these and other roofing questions, contact us today at Charleston's own, local, reliable Tri County Roofing.